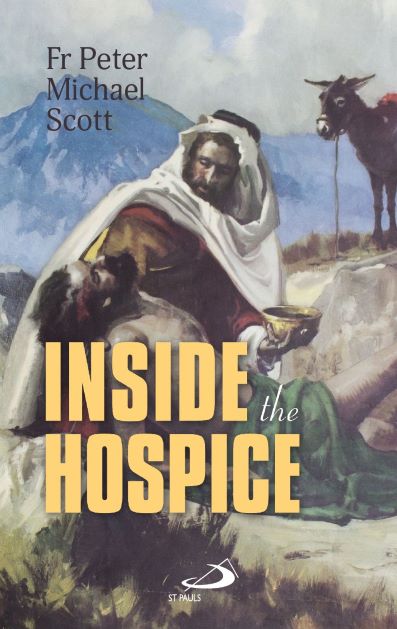 Inside the Hospice, a new book by Fr Peter Michael Scott, began life as a regular column in the Westminster Record, the diocesan newspaper. Based on his extensive experience as a hospital and hospice chaplain and mostly written during his time as chaplain at St Joseph's Hospice in Hackney, each of the 37 chapters invites the reader to contemplate an experience or encounter that Fr Peter has in the hospice with the eyes of faith.
Each story is set within the wider canvas of God's infinite love and mercy, where even the saddest and most difficult situations can be transformed. We are reminded of Christ's suffering through the experiences of the patients, and are given a glimpse of the Resurrection to come through their stories and those of their relatives. As Fr Peter explains: 'I believe the book presents a positive and truthful image of good Catholic hospice care at St Joseph's, and helps those who might be frightened of dying.'
There is much that can inspire us in the quiet dignity of residents, and the selfless dedication of the Sisters and staff, and the gentle encounters that Fr Peter has with the residents and their families. There is a sense of entering a world that is enveloped in God's healing grace. Throughout, we are accompanied by Jesus, Mary and the saints, who have some way of touching the lives of the people in the stories and those of the reader.
In one chapter, Fr Peter freely admits to being a 'spiritual magpie', telling us that he likes to 'collect or steal advice from prayerful people and use it when spending time with God'. This book, with its short yet thoughtful chapters, enables the reader to become a spiritual magpie, offering opportunities for contemplating God's infinite love in the lives of others, and ultimately our own. As the book can be easily carried in a pocket or handbag, these quiet oases of prayer can be accessed even in fleeting moments in the midst of a busy day.
Fr Peter Michael Scott is a priest of the Diocese of Westminster. He has served three Cardinals as Advisor for Healthcare Chaplains. He is currently Parish Priest of St Mary's, Finchley East in north London. Inside the Hospice (120 pages, £7.95) is published by St Pauls Publishing and is available from St Pauls Bookshop in Morpeth Terrace (next to Westminster Cathedral) or online at https://www.stpauls.org.uk/inside-the-hospice-fr-peter-michael-scott.html. Proceeds will be donated to St Joseph's Hospice.
Main image: Mazur/CBCEW.org.uk