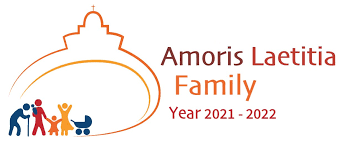 The Christian proclamation on the family
is good news indeed
Amoris Laetitia 1
On the 19th March 2021 the Church will celebrate the 5 years since the publication of Amoris Laetitia on the beauty and joy of love in the family. On the same day, Pope Francis launched the Year of "Amoris Laetitia Family", which will conclude on 26th June 2022 during the 10th Meeting of Families in Rome. After a year of struggles and hardships it is a source of great joy to spend time reflecting on the ways we express and grow love in the family.
"It is an invitation to each and every one of us, to bishops, to priests, to married couples, to all Catholics, to all Christians to reflect on the importance of marriage and family in our society today…I would hope that we would all make a very special effort to celebrate this year of Amoris Laetitia by organizing events in our own domestic families, in our parishes, in our dioceses, so that together we can give new life and a new impulse in this new year to the life of the family in our society."
Cardinal Kevin Farell - Prefect of the Dicastery for Laity, Family, and Life
For a good overview of Amoris Laetitia we recommend that provided by the Scottish Catholic Education Service Joy of Love summary
Over the coming months we will share with you a variety of resources, initiatives and ideas for you to share as a family and parish.
Amoris Laetitia Brochure provides a variety of resources and links to feed, enrich and accompany our journey to the World Meeting of Families
Francis the discerning Pope Article by Nicholas Austin SJ - what does it mean to be a discerning Church - a good way of exploring Chapter 4 of Amoris Laetitia - Love in Marriage
Amoris Laetitia videos Over the course of ten monthly episodes, hear the Holy Father talk about each of the chapters of the Apostolic Exhortation Amoris Laetitia, along with the testimonies of different families who will share some aspects of their daily lives.
From the 9-21st June the Dicastry will be hosting a forum "Where are we with Amoris Laetitia? Strategies for implementing the apostolic exhortation of Pope Francis," will be held and will gather the heads of offices for family pastoral ministry from Bishops' Conferences, International Movements and Family Associations. We will feed back on the fruits of this discussion?
Seeking God Together - a practical resource for families devised in 2018 and inspired by Amoris Laetitia . It encourages a Christ-like walking together with families on a journey in faith, recognising that families and family life are of vital significance to all the people of God: single, married, lay and ordained. Seeking God Together offers a snapshot: 'What's Life Like?' across the broad stages of contemporary family life from cradle to grave, with all its rhythms and messy complexity.