Welcome to Cana UK
CANA – Taking time for yourselves as a couple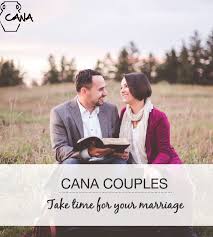 CANA has helped enrich and deepen the lives of thousands of couples, whether married or in a long term relationship. Now in its 40th year, it is present in nearly 50 countries around the world. Its inspiration comes from the spirituality lived out by the Chemin Neuf community over the past 47 years in response to the different realities of couple and family life. It has a particular Ignatian focus on prayer and time spent together as a couple. For More information about Chemin Neuf please click here
CANA provides a pathway for deepening love within the couple, rediscovering the beauty of marriage and tasting the loving presence of God. CANA welcomes those who want to deepen their relationship. Alongside married couples with or without children, we also welcome and embrace those in a long term relationship wondering about their future commitment, couples wanting to resolve difficulties in their relationship who may be considering separation, and those in a new relationship after divorce.
Our programmes have had to adapt to face the current challenges of the pandemic. More than ever there is a need for couples to be able to take time to support and strengthen each other. We found that the richness of some programmes can be maintained online. We have introduced CANA OPEN online that allows couples to experience a CANA Welcome session . CANA Welcome is also online for the time being. More recently we have introduced CANA Journey, our new YouTube channel. Currently we have a series of 6 broadcasts that focus on the symbolism of the house as a focus for couples to deepen their love for each other
In the UK we have a regularly updated website cana-couple-and-families that gives details of our programmes of support for couples:
· CANA JOURNEY – A new YouTube channel currently running a 6 part series called CANA@HOME. An international (English-speaking) collaboration that presents the symbolism of our own homes as a focus for prayer and reflection over 6 broadcasts.
· CANA OPEN- Virtual sessions of one and a half-hour duration on a Saturday morning. Providing couples with the opportunity to experience the grace of CANA.
· CANA WELCOME A programme designed for couples in churches and parishes to come together in their locality and focus on married life and family (online until restrictions are lifted)
· CANA FRATERNITIES - Couples continue to build unity and fellowship by coming together to strengthen and serve each other after experiencing the grace of a CANA week.
· CANA 1-2-3 Our brand new programme spread over three weekends. It is aimed at busy couples and framed around the success of CANA week which has transformed the lives of couples over the past 40 years
· CANA WEEK The original CANA outreach, this is a focal point of the year where couples and families spend a week together on a faith-based journey to strengthen their marriage. Children are cared for in their own programme so couples can focus on their relationship. The week is framed around the Ignatian spiritual exercises, and is effective in enriching and deepening love and faith. Over the years thousands of couples have expressed the great blessing they have received from the CANA week.

CANA provides ongoing activities including dedicated couple weekends and open days. These are supported by guided sessions in a prayerful faith-based environment that bring couples together to share their experiences. Our website is regularly updated to share events.
General
For the past 30 years the Chemin Neuf Community has been running Cana in 45 countries throughout the world. The Chemin Neuf Community was founded in Lyon, France, in 1973. It is an apostolic Roman Catholic community with an ecumenical vocation. Its members are celibates or married couples, lay people or ordained, united by their faith in Jesus Christ and the desire to serve the Church, the Gospel and the world.