In this blog, Lorcan Keller, a first year seminarian at Allen Hall, writes about his journey to discovering his vocation and how he found peace in responding to God's call.
I was born and raised in Dublin to a Catholic family and attended Catholic schools, served Mass and sang in choirs but, like most people my age, fell away from the Church in my teens. My father died when I was twelve, which had a profound effect on our family. My mother's faith was badly shaken and we began to drift away from the Church. It was not until I began university that I started to attend Mass again, first on weekdays, then on Sundays. I don't think I ever lost my faith, but through my degree in theology and English literature, I began to take my faith and prayer more seriously.
I first heard the Lord's call to priesthood as a young child, while serving Mass at the local parish. I can still remember my dad's reaction when I announced that I wanted to be a priest, and quickly learned to get a 'real job'. The thought of priesthood, however, simmered away for a while until I entered secondary school. It was not until I began studying theology in Maynooth that this draw returned. I shared many classes with the seminarians there and befriended a few of them, which helped to ease my anxieties of what such a life would entail. My main issue was that I was feeling equally pulled to parish ministry and to the Benedictine charism, a tension that I have only recently come to terms with. Through a lot of prayer and reflection, I discerned that I am probably more suited to pastoral ministry and approached the Vocations Director in the Archdiocese of Dublin. In the meantime, I took on a two-year master's degree in liturgy in Maynooth, to allow more time for discernment, but this was likely a mistake. I was pretty burnt out by the time I returned to Maynooth as a seminarian a few weeks later and this led to a host of issues with my academics. After three unsuccessful years of formation, eight consecutive years in Maynooth, I needed a break!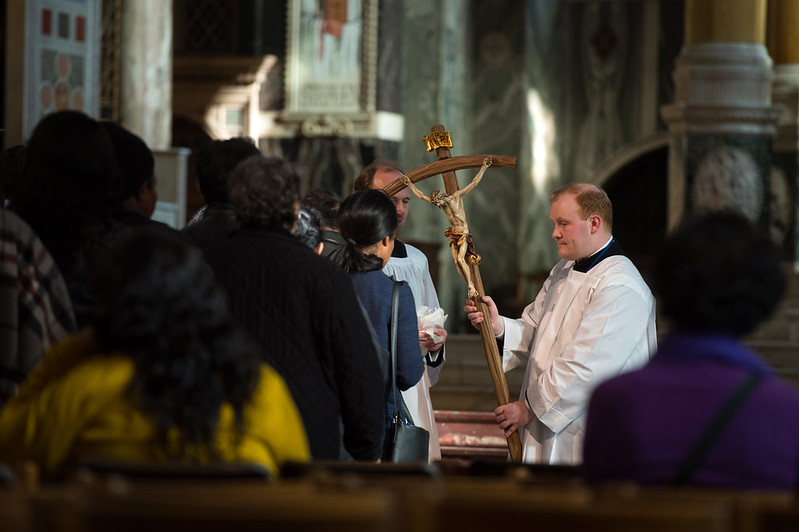 Lorcan assisting at the Solemn Liturgy of The Passion of Jesus, 2019
I then spent a year in the L'Arche Community near Toronto to decompress, followed by a year working in Dublin, by which time I had abandoned the idea of formation, believing that perhaps God was calling me to lay pastoral work. As such, I moved to London to start a new job in Westminster Cathedral, typesetting and working closely with the Precentor. My role there gave me every opportunity to get involved in parish life, and the Church, but no matter how much I took on it was never enough. I knew that my heart would never find peace until I resolved the vocation question, so I took some time off to go on retreat to Pluscarden Abbey in Scotland, thinking that perhaps I should have approached the Benedictines from the beginning. The Abbey was beautiful and the life there was everything I had hoped it would be, but I could not imagine myself living there. There was only one thing for it, and so I approached Canon Stuart Wilson, the Vocations Promoter for Westminster, for some help, and help he did!
COVID has changed the way we interact in Allen Hall but, despite the restrictions and contracting the virus myself, I feel much more at ease with the idea of formation and diocesan priesthood. The community here is much smaller and more cohesive, and I thoroughly enjoy the small bit of pastoral experience I have had in Our Lady of Fatima, White City. God calls each of us in different ways to different states of life, and there is no one-size-fits-all vocation. I never thought, when I first started discerning, that I would end up in seminary in London over a decade later!
To support the formation of priests for our diocese, please donate to the Priests Training Fund.
Photos: Mazur/CBCEW.org.uk