The Lourdes Pilgrimage is entering its closing stages, and so today's Mass at Côté Carmel was offered as a Requiem Mass for those pilgrims and priests who had died, especially since 2019. The musicians offered their talents to make it a special occasion, with Newman's Lead Kindly Light opening, a voluntary of Nimrod from Elgar's Enigma Variations, while Fr David Knight sung the Pie Jesu from Faure's Requiem during communion.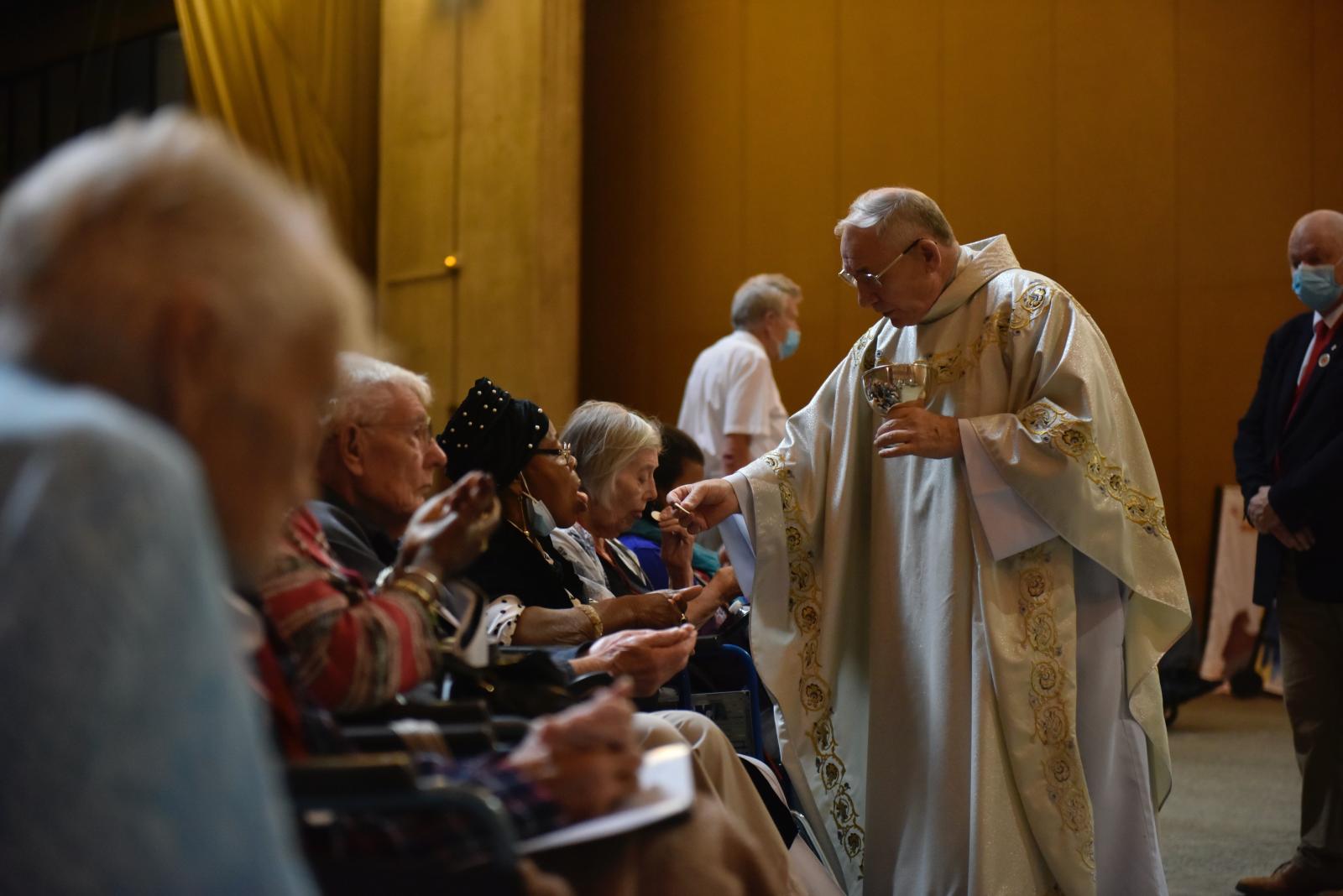 Bishop Paul McAleenan was the principal celebrant at the Mass, and in his homily he spoke on the theme of 'gift', saying that 'during the time of the pandemic we became more aware that everything is gift', especially those individuals God has given us. This is highlighted in the story of Lourdes, as 'there was one occasion when Mary appeared to Bernadette and Bernadette was going to write down what Our Lady was going to tell her. But Our Lady said, "You do not have to write down what I have to say".'
Bernadette was being asked to open herself to the gift of love, to 'open her heart, to experience something that cannot be written down, cannot be recorded. Love is one of those things we have to experience of or have faith in.'
Bishop Paul pointed out that often in Mass when we speak of God's love, we speak of it as 'saving'. This is because 'God's love is active, it's always operational, he always uses it to save.' Therefore we also use the word mercy, which is 'God's saving love in operation'.
This is why, during the Mass offered for deceased relatives and friends, we hear the word mercy, which is also wrapped up in the message of Lourdes: 'The message of Lourdes is presented as one of mercy, a place where we acknowledge the mercy of God and indeed live of it.' The deceased Lourdes pilgrims will now be familiar with the mercy of God.
The Gospel passage, which was the Beatitudes from Matthew, contains the phrase, 'happy are those who mourn'. This might at first seem like a strange thing, but, as Bishop Paul made clear, 'we mourn only because we love. We grieve and we cry only because we love. Mourning is a sign of love.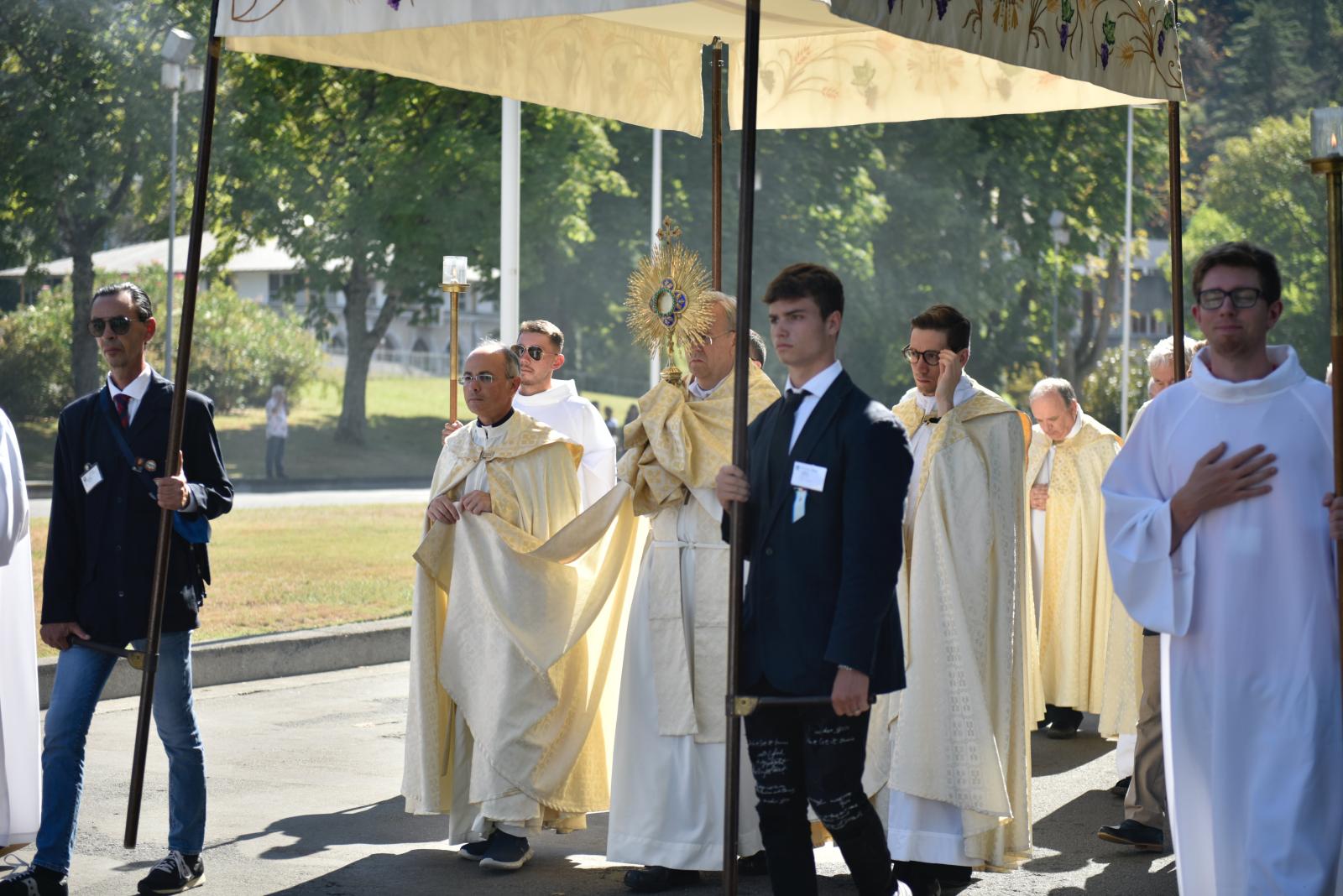 'Even when we are bereaved, we still have hope because of the mercy of God, because of the death and resurrection of Christ. So even in the midst of death, the Church always speaks about life: new life, abundant life, eternal life.'
After Mass, the pilgrims rested for the day, taking an opportunity to look around Lourdes, gathering in the evening for the Blessed Sacrament Procession. Bishop Nicholas Hudson led the procession, which encompassed several groups here in Lourdes, around the Sanctuary, eventually ending up in the underground Basilica of St Pope Pius X. This was followed by a time of Adoration and Benediction.
The final part of the day was a celebration of all pilgrims gathering in the bar of the Eliseo Hotel for a party, singing and dancing, rejoicing after a long pilgrimage and spending time in solidarity with each other.
Keep up with photos, videos and stories from the pilgrimage by visiting our Lourdes Pilgrimage page or following us on social media. Find all the photos from today here.