BOOK NOW FOR LOURDES 2022 PILGRIMAGE
PLACES ARE LIMITED
Westminster is going to Lourdes in 2022!
Join HE Cardinal Vincent Nichols as he leads the Westminster Diocesan Pilgrimage to Lourdes this summer from Friday 22nd to Friday 29th July 2022!
All Parish groups, pilgrims, volunteers and Assisted Pilgrims (also known in Lourdes as 'malades') and their carers, are invited to make bookings to participate in this, the first Westminster Diocesan Pilgrimage returning to Lourdes since 2019. Booking forms are available in paper copy and online from the back of Westminster Cathedral, the Diocesan Pilgrimage Office in Vaughan House or click here to Book with Tangney Tours .
Applications from Assisted Pilgrims and those seeking to be volunteers must be returned no later than the end of April / early May 2022. Note that all pilgrims must submit a Medical Form, and that Assisted Pilgrims' participation is subject to medical assessment by the Chief Doctor for the Westminster Lourdes Pilgrimage.
With regard to Covid-19, from 31st March 2022, France has moved the UK from the Orange list to the Green list – and this is a positive move.
Click this link for foreign travel advice.
What does this mean?
Fully vaccinated travellers from the UK aged 12 and over must provide proof of vaccination. Completion of the sworn Statement is no longer required.
What is 'fully vaccinated' status?
France will accept the UK's proof of COVID-19 recovery and vaccination record at the border. The French Government recognises any vaccination certificates which conform to EU norms . This means your final dose must have been administered at least 7 days prior to travel for Oxford/AstraZeneca, Pfizer/BioNTech, Moderna or 28 days after a second dose of Johnson & Johnson.
For travellers aged 18 and over, France will recognise you as 'vaccinated' for entry purposes if you completed your initial vaccine course within the last 9 months. If more than 9 months have elapsed since your initial course, and you did not have a booster in that 9-month period, you will be considered as unvaccinated and must follow the separate rules detailed below.
If you're not fully vaccinated - Travellers from the UK aged 12 years and over who are not fully vaccinated need to provide: A negative PCR test result taken within 72 hours or an antigen test result taken within 48 hours pre-departure.
The requirement to present a compelling reason to travel has been removed.
This means that those who are not vaccinated can travel if they test prior to departure. As always, this test must be by a recognised provider.
Should you have any further questions about this, please do not hesitate in contacting Tangney Tours on 01732 88 6666 or your selected accredited travel operator directly.
Volunteer in Lourdes
If you are over 16 and would like to consider being a Pilgrimage Youth or Adult Volunteer, click on this link to Apply to Volunteer in Lourdes no later than the end of April / early May 2022.
Fundraise in your Parish or School to help get a sick or elderly pilgrim, a Medical Team volunteer, an adult helper or a Red Cap youth volunteer from your Parish to Lourdes with the Diocese. A fundraising ideas pack is available from the Pilgrimage Office, so for materials and presentations, so if you want someone to come and give a free talk in your Parish or school, or if you want to speak to your Parish or organisation about the Westminster Lourdes Pilgrimage, get in touch with the Pilgrimage Office on 0207 798 9173 or email lourdes@rcdow.org.uk
Donations towards the Westminster Diocese Lourdes Pilgrimage, using the reference 'Lourdes 2022', can be made directly with the following details:
Account name: WRCDT Lourdes Pilgrimage
Account number: 41307649
Sort Code: 40-05-20
Bank name: HSBC UK Bank PLC
Thank you for your support!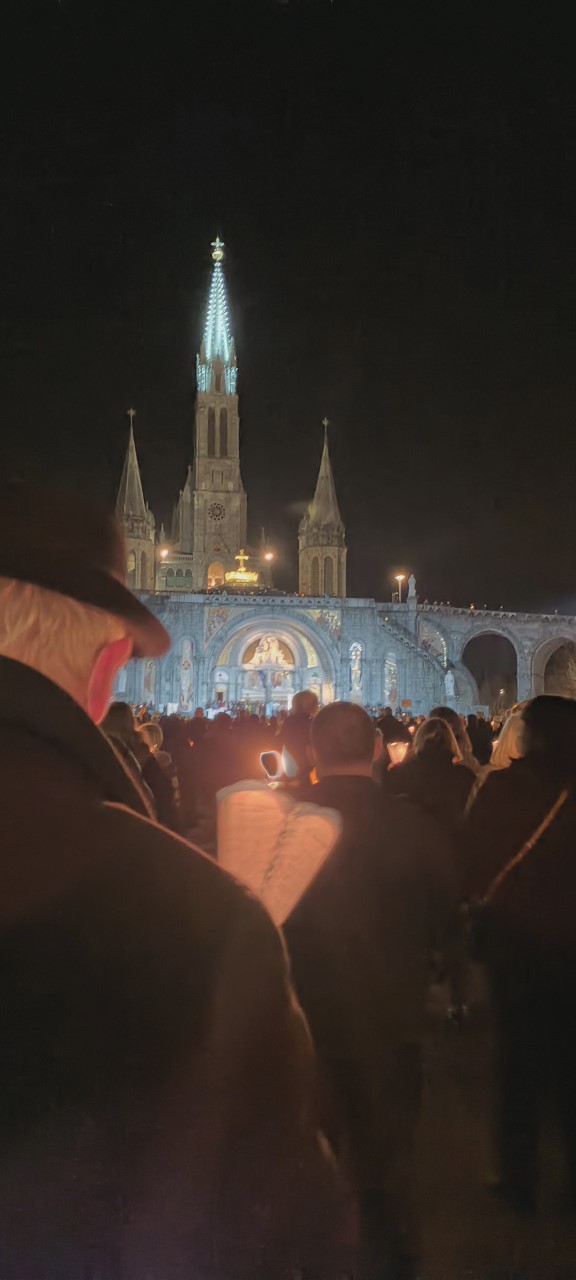 UK Tour of the
Relics of St Bernadette
Fr Dennis Touw, speaking on behalf of The Association of Lourdes Pilgrimage Directors Great Britain, is pleased to announce that the long-awaited UK Tour of the Relics of St Bernadette will be taking place from the beginning of September through to October 2022, covering several Dioceses including Scotland. Further information will be available in due course.
Our Lady of Lourdes, pray for us
St Bernadette, pray for us
Prayers:
Prayer of consecration to Mary
I Choose You Today, Mary, in the presence of the angels and saints of heaven, for my Mother and Queen.
I consecrate to you, in obedience and love, all that I am, all that I have, and all the good that I may do, putting myself and all that belongs to me entirely at your service, for the greater glory of God and the salvation of souls

Act of Trust in Mary (Family of Our Lady of Lourdes)
Blessed be God, our Father
for having created Mary so beautiful
and for having given her to us as Mother
at the foot of the Cross of Jesus.
Blessed are You for having called us,
like Bernadette,
to see Mary in Your light
and to drink from the wellspring of Your Heart.
Mary, you know the misery and the sin of our lives and the life of the world.
We want to trust ourselves to You today,
totally and without reserve.
From you we will be reborn each day
by the power of the Spirit.
We will live the life of Jesus as little servants of our brothers.
Teach us, Mary,
to bear the life of the Lord.
Teach us the "yes" of your heart.

Hail Mary (Ave Maria)
Hail Mary, full of grace, the Lord is with thee. Blessed art thou among women, and blessed is the fruit of thy womb, Jesus. Holy Mary, Mother of God, pray for us sinners,
now, and at the hour of our death. Amen.

Salve Regina
Hail, holy Queen, Mother of mercy, Hail, our life, our sweetness and our hope. To thee do we cry, poor banished children of Eve: To thee do we send up our sighs, Mourning and weeping in this vale of tears. Turn then, most gracious Advocate, thine eyes of mercy toward us, and after this our exile, show unto us the blessed fruit of thy womb, Jesus,
O clement, O loving, O sweet Virgin Mary! Amen