Next year's Diocesan Pilgrimage to Lourdes will be from 19th to 26th July 2024. Complete an 'Expression of Interest' form and you will be contacted when bookings open. More information will follow in the coming months.
Expression of Interest Form
Download a PDF version of the form here.
On this site you can view more information about our Diocesan Pilgrimage to Lourdes. When we make this pilgrimage, our faith is visible and active service to one other as we come to the waters and invigorate our commitment to respond to the message of Our Lady to St Bernadette.
This month's spotlight is on Youth Helpers.

Being a Youth Helper 'Redcap' on our pilgrimage is a great experience for our young people and gives them an important opportunity to discover what it means to serve and love their neighbour. Many of our young people are unable to afford the pilgrimage without financial assistance from others and spend a lot of time fundraising to go.
Here is a wonderful message of thanks for Westminster Lourdes' Redcaps from a Lourdes Pilgrim: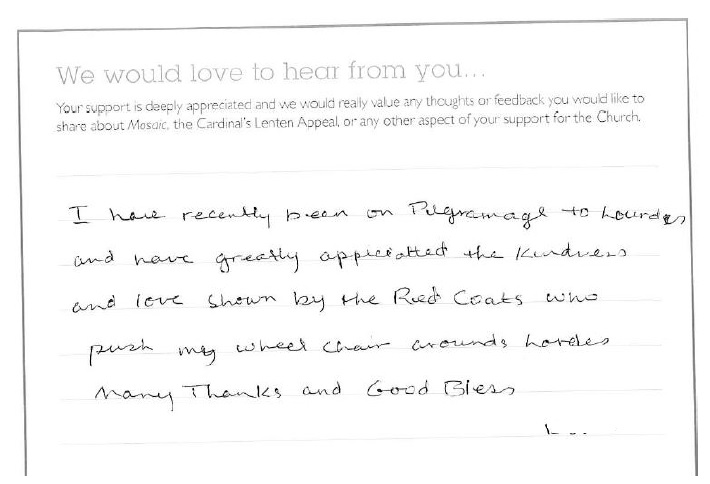 Can your Support help a young person Join and Serve on the Pilgrimage to Lourdes?
Are you a young person thinking of joining the Lourdes Pilgrimage in 2024?
Have you spoken to your Parish Priest about joining the Lourdes Pilgrimage in 2024?
Parish Priests - amongst your parishioners, can you see someone who would be a fantastic Redcap? Are there parishioners who might be St Frai Assisted Pilgrims waiting for a chance to get to Lourdes? Are you the key to the difference a visit to Lourdes would make in their lives?
Our Lady of Lourdes, pray for us