Westminster Cathedral is delighted to announce the appointment of Simon Johnson as Master of Music from 1st September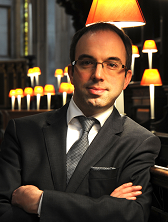 2021.
Simon has been the Organist and Assistant Director of Music at St Paul's Cathedral since 2008, during which time he has played for all the national events that have taken place there, including the Diamond Jubilee of Her Majesty The Queen and the funeral of Baroness Thatcher. Previously he was Assistant Master of Music at St Albans Cathedral, establishing the reputation of the Girls' Choir, and his first job was as Director of Music at All Saints' Church in Northampton.
Simon is very active as a recitalist throughout the USA and Europe and also enjoys orchestral conducting; his compositions are published by OUP and Peters. In 2018 he addressed the symposium of the Pontifical Council for Culture in Rome and in the same year he worked with NASA and the International Space Station in a sell-out performance of Holst's The Planets at St Paul's.
Speaking of his appointment to Westminster Cathedral, Simon said: 'I am tremendously excited to have been appointed to this prestigious post. The Choir of Westminster Cathedral occupies a truly unique position in the world of Church music and I look forward to becoming a part of such a precious liturgical and musical tradition.'
Echoing these sentiments, Fr Sławomir Witoń, Cathedral Administrator, said: 'I am very pleased that Simon has accepted the appointment to be the new Master of Music at our Cathedral. I am very confident that Simon's outstanding musicianship and extensive experience will sustain and develop further our provision of sacred music of the highest quality at the service of the Church, in accordance with the Charter for Sacred Music in the Mission of the Cathedral established by the Cardinal. I am very much looking forward to welcoming Simon to our Cathedral team.'
Simon Johnson's appointment is subject to the usual mandatory checks.
Choir photo: Mazur/CBCEW.org.uk
Photo of Simon Johnson: Malcolm Crowthers