Cardinal Vincent led celebrations in Stevenage on 2 July as St Margaret Clitherow Primary School celebrated its golden jubilee on a glorious day in the school's grounds. Over 200 people gathered for the celebration, with past staff and governors joining their successors and parents of the school in the sunshine.
The Cardinal concelebrated Mass with a number of local clergy, including Fr Michael Doherty SDS, Fr Vincent Dike SDS and Fr Christopher Luoga SDS from the Stevenage parishes, Canon Daniel Cronin from Knebworth, Fr Norbert Fernandes from Welwyn Garden City, Fr Phillip Law and Fr John Ablewhite. Also in attendance were JP Morrison, Director of Education for the Diocese, Stephen McPartland, the recently returned MP for Stevenage, and former pupils of St Margaret Clitherow who now attend the John Henry Newman School.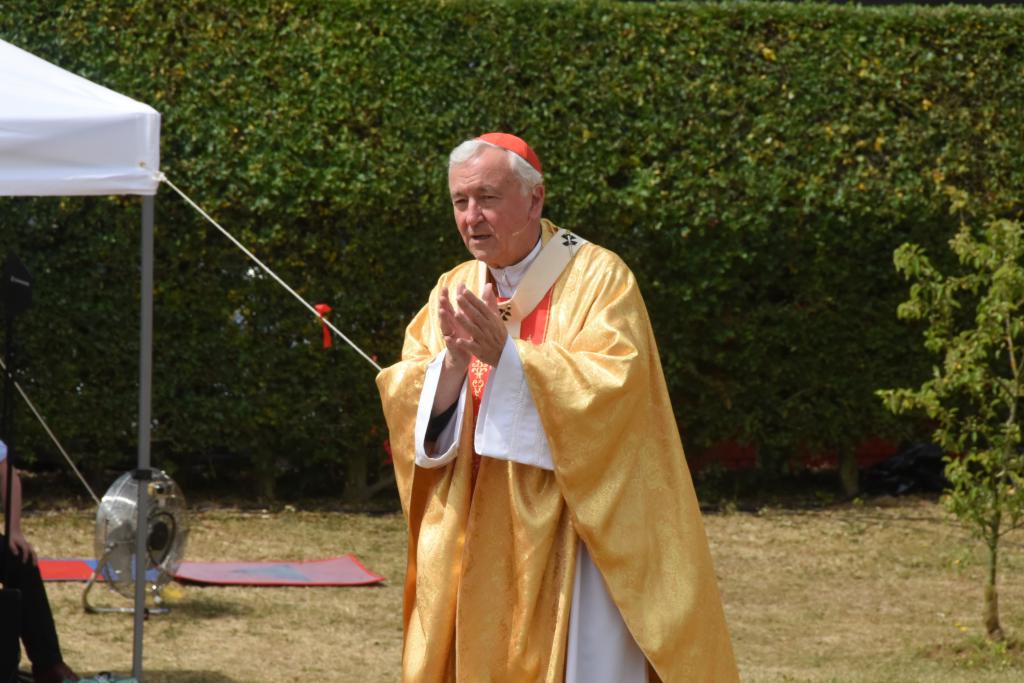 In his homily, the Cardinal told the pupils that they can learn something from each of the three readings heard at Mass. The First Reading from the First Letter of St John told them that they are children of God; the Second Reading from the letter of Paul to the Philippians told them they should grow as children of God; and the Gospel Reading from John told them 'remain in my love. If you obey my commands, you will remain in my love, just as I have obeyed my Father's commandments and remain in His love'. He asked the pupils to be inspired by St Margaret, their patron, who herself was a 'special friend of Jesus', stayed close to the Lord and is a wonderful role model for us all.
At the end of Mass, the Cardinal presented two diocesan medals to Mrs Mary Cordy and Mrs Wendy Marley for the service to the Diocese and church in the area. Canon Cronin described their steadfast work and commitment and commended them for their service.
To mark the golden jubilee of the school a number of commemorations have taken place. A new school song was written by Nicky Footer and performed at the Mass. The song cleverly worked the school's history, Cardinal Heenan and the fire which destroyed the school in 1998 into its lyrics and impressed all who heard it. There is also a new memorial stone in the grounds, an anniversary prayer written by the children and 50 different flowers have been planted in the gardens.
For more photos of the celebration, please click HERE.
Fifty golden sunshine years celebrated @StMClitherow this afternoon.

— Cardinal Nichols (@CardinalNichols) July 2, 2015