On Thursday 8 December, after the Mass of the Solemnity of the Immaculate Conception, Bishop John Sherrington blessed the refurbished statue of Our Lady of Walsingham in the Chapel of St George and the English Martyrs. The statue was processed from the sanctuary to the chapel by Knights of Malta.
In the chapel, along with Mgr John Armitage, Rector of the Shrine of Our Lady of Walsingham, Bishop John prayed:
'May your children know her protection and trace in their hearts the pattern of her holiness.
'Grant that those who pray at this new shrine will be blessed with faith and hope, love and humility; with strength in hardship and self-respect in poverty; with patience in adversity and kindheartedness in times of plenty.
'May they search for peace, strive for justice and realise your love as they pursue their journey through life toward your heavenly city, where the Blessed Virgin Mary intercedes as Mother and reigns as Queen.'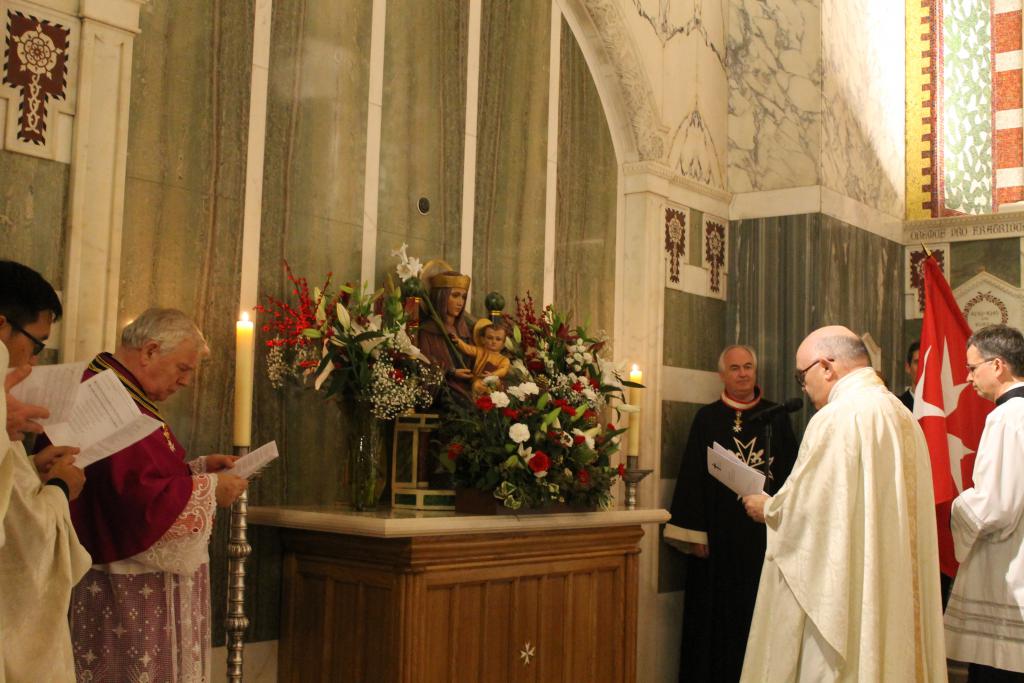 In his homily during Mass, Bishop John said: 'As we process to the Chapel of St George and the English Martyrs we bring our prayers and needs like countless pilgrims before us to the new shrine of Our Lady of Walsingham in the cathedral. We honour the memory of Cardinal Griffin who commissioned the statue for the Marian Year of 1954 and placed the image in a position of honour where it will draw pilgrims to this great cathedral church.'
He added: 'In a profound way, we link the great history of the martyrs with Our Lady, the Queen of Martyrs, whose intercession must have been faithfully invoked from prison cells, during the scourging and torture of the saints and whilst dragged along the streets of London to Tyburn.'
The pedestal on which the statue is placed is based on the exact measurements of the pre-Reformation altar from Holy Trinity Church, Chipping Norton, which was earlier in St Mary's Church in Heythrop, Oxfordshire.
Soil from the Martyr's Field, the Slipper Chapel, the Priory Grounds in Walsingham and from Our Lady of Czestochowa's Shrine in Poland, is embedded in the pedestal on which the statue stands, recognising 'the generosity of the Polish artists who have gifted us with the new pedestal. It also unites us with the Polish witnesses to their Catholic faith,' added Bishop John.
'The feast gives us hope that God's grace perfects our human nature so that we become holy,' he encouraged those present. 'The prayers of Our Lady, the Mother of Mercy, assist us and strengthen our footsteps on this call and pilgrimage to holiness through death to eternal life.'