Two parishioners from St Mary's Church in Hampstead are doing their bit to take part in the 70th anniversary of the D-Day landings of 6 June 1944 by driving one of the Willys Jeeps used in the famous landings back to the Normandy beach on which it landed.
On 3 June 2014 Richard and Victoria Nichols set off from a rainy Hampstead to complete the 300 mile journey across the Channel via Portsmouth to take part in the historic occasion which is being attended by veterans, many of whom are in their 90s.
The journey to Normandy has a particular significance for Victoria, a trustee of the Catholic Children's Society, whose father, a Royal Marine, landed on Sword Beach during the landings. It is the first time that she has been to Normandy to see where her father fought.
A small crowd gathered at St Mary's Church where Mgr. Phelim Rowland, parish priest and formerly Vicar General of the Army between 2002 and 2006, blessed the Nichols and the Jeep on the journey across the Channel to mark the historic occasion.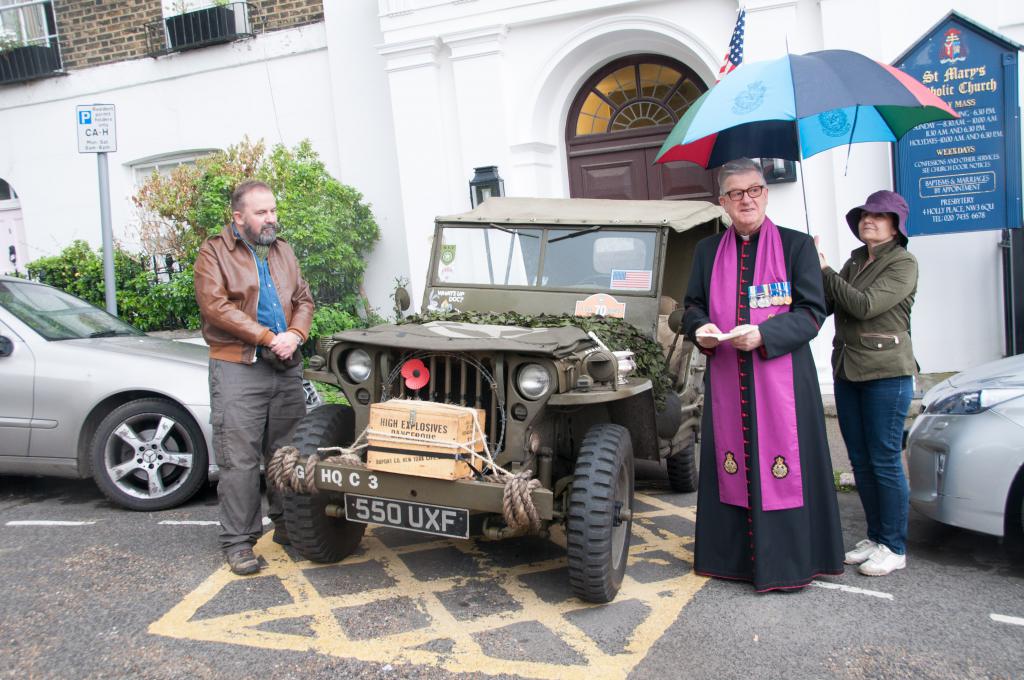 Hampstead parish was founded in 1815 by Abbé Moral, a French priest from Normandy, and significance of this was not lost on Mgr. Rowland:
"Our Church was built by a priest from Normandy who came to Hampstead and now this jeep is going back to Normandy to commemorate its liberation and the liberation of the rest of France by Englishmen. I think it's a wonderful connection and to see that it has come full circle"
Speaking about the 70th anniversary, he commented that it is important because, for the veterans, it is probably the last time that they will be able to attend a large, formal commemoration of one of the great turning points of the war.
The D-Day landings in 1944 marked a dramatic turning point in the Second World War and swung the momentum and initiative back to the Allied forces. It remains the largest seaborne invasion in the history of warfare, with over 150,000 British, American and Canadian troops landing on an 80km stretch of the Normandy coastline. The Allied forces suffered over 12,000 casualties with over 4,000 dead. But from the success of D-Day, the Allied forces gained a foothold In Europe for the first time since the war had begun and began the push towards Berlin and the war's end in May 1945.
The Willys MB U.S. Army Jeep was manufactured from 1941 to 1945. The small four-wheel drive utility vehicles are considered the iconic World War II Jeep, and inspired many similar light utility vehicles used in warfare. There are still many Willys jeeps available and roadworthy, available for between £10k-£15k.