Bishop Nicholas Hudson, former Rector of the English College in Rome, shares a reflection for the Feast of the English Martyrs. Many of them were formed and trained at the English College, eventually returning to England, living out their vocation and becoming martyrs for their faith.
One of the treasures of the English College in Rome is an atlas; an old atlas. It is dated 1570; and it is beautiful. The English College opened just nine years later; so that atlas must have been bought to show the students where to go once they got back home.
These students had come to Rome for just one reason: to go back home; to return to England and Wales, where Queen Elizabeth had banned seminaries and banned the Mass. At great risk to themselves, after years of preparation in Rome they would make their way back to England to bring the sacraments to Catholics up and down the land who yearned for Penance and Mass and the Baptism and Confirmation of their young ones.
Even then, the walls of the English College were emblazoned with images of English martyrs going right back to the time of our proto-martyr, St Alban, St George, patron of our land, St Boniface, St Edmund King of East Anglia, St Thomas of Canterbury, Saints John Fisher and Thomas More, and countless others. These images reminded the students, as they remind seminarians today, that they belonged to a long line of witnesses. Rome was not the only college where this tradition was celebrated and men offered themselves generously for the mission. Douai, Rheims, St Omers, Lisbon, Valladolid all boasted English colleges. There were Benedictines, Carthusians, Franciscans and many other Religious preparing as well to shepherd the Lord's flock on English soil. It is no exaggeration to say that, without the courage of these Tudor martyrs, there might have been no Catholic Church remaining in England today.
Because I trained and taught at the English College in Rome, the Forty-Four, as we call them, the Forty-Four young men from that house who made the supreme sacrifice of laying down their lives for the sheep, are my particular heroes. I ask their intercession every day, especially the likes of Sherwin and Campion who were martyred together at Tyburn. Today is a lovely occasion to salute the Sisters at Tyburn, Benedictine Adorers of the Sacred Heart, who preserve the memory and witness of all the English Martyrs who gave their lives in that place, with perpetual adoration of the Blessed Sacrament and unceasing intercession for our nation. What better memorial could one ever imagine to these brave men and women who died for the Catholic Faith!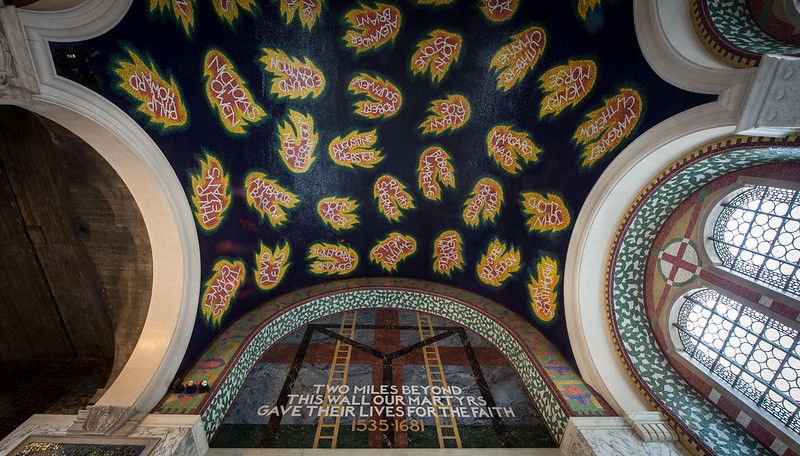 Mosaics from St George's Chapel at Westminster Cathedral remembering the English and Welsh men and women martyred for the Catholic faith from 1535 to 1681
Whenever I am near Marble Arch, I think of Fathers Sherwin and Campion awaiting their turn to be hanged from the V-shaped gallows they called 'Tyburn Tree', hanged then disembowelled and quartered, their limbs sent to the four corners of the city. It warms my heart to think of Sherwin, smoking his last pipe on the scaffold, looking up at the white disc of a December sun and telling his friend, 'Ah, Mr Campion, tonight we shall be above yonder fellow!'. When I am in trouble, I pray Sherwin's last prayer, uttered as the noose was set around his neck, 'Jesus, Jesus, be to me a Jesus!'.
Every time I drive past the Tower of London, I think of all those brave men and women taking their final look past the turrets of the Norman keep up into the sky, making their own the prayer of St Cuthbert Mayne, 'Into your hands, O Lord!'. I think of St Henry Walpole whose graffiti, spiritual carvings, you can still see in the Salt Tower. Walpole, the brilliant young lawyer who went along to see Campion's martyrdom and was splashed by his blood: he felt in that instant the call to follow in Campion's footsteps; he trained to be a priest, returned to the mission and was most cruelly tortured before offering the supreme sacrifice of his life.
When I look up at the Salt Tower, I also remember 'the one who got away'. I mean Fr John Gerard, one of the few to escape: he did so by sliding down a rope from the Salt Tower roof onto a boat and away; away to resume his ministry into a ripe old age. For me, Gerard represents the countless priests, religious, lay men and women who were not martyred and whose sacrifices for the faith are known only to God.
One of the most beautiful statues in Rome's English College is of St Margret Clitherow. She was martyred not in London but in York, where she opened her house for priests to come and say Mass, at enormous risk to herself. 'I will not be afraid to serve God and do well,' she would say. 'If God's priests are to venture to my house, I will never refuse them.' She paid the ultimate price, being most cruelly martyred: she was made to lie on a sharp boulder and a door pressed down on top of her until it broke her back. Quite rightly, she has pride of place in the Gallery of Martyrs at the English College. St Anne Line was made of similarly strong stuff: sentenced to die for harbouring one priest, she said her only regret was that she had not harboured a thousand!
These men and women knew great suffering. There is something very appropriate in the fact that their feast day, 4th May, has been chosen as a special Day of Prayer for Victims and Survivors of Abuse. We ask the prayers of these heroic men and women for all who have suffered abuse of any kind but, in a particular way, the appalling suffering of clerical sexual abuse.
When I was just ten, I remember receiving a card which showed what looked like a crowd of Martyrs all gathered round one altar. It was 1970; and I realise now it was to commemorate the joyous Beatification which had taken place that year of a great number of English Martyrs. Arriving at the English College just eleven years later, the same image greeted me in a painting on the wall; it helped me feel at home immediately. And, as I passed the image daily, it gradually dawned on me that this is what the author of the Letter to the Hebrews means when he describes a great cloud of witnesses who surround the throne on which is sat the Lamb: they surround the throne and they surround us, waiting to help us run with endurance the great race which God has set before us. They wait to help us; and we must remember to call on them often!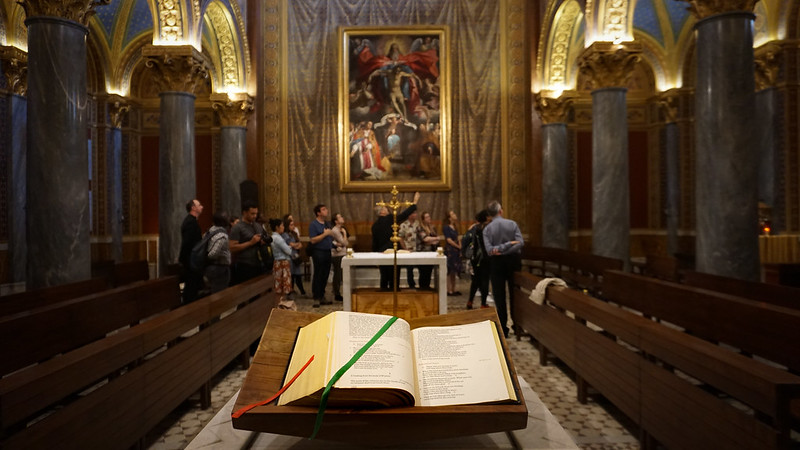 The Chapel at the English College in Rome
To support the formation of priests for our diocese, please donate to the Priests Training Fund.
Photos: Mazur/cbcew.org.uk, Diocese of Westminster