Along the route of the bustling Notting Hill Carnival procession and a stone's throw from trendy Portobello Road, the Carmelite Monastery lies hidden behind a twenty-two foot enclosure wall.
In stark contrast to their location in an 'alternative' London area, the Carmelite nuns spend most of their day in total silence observing their vows of poverty, obedience and chastity. Once the gate of the courtyard closes, the quiet is astonishing.
Through an indoor window into the cloistered life, and resisting the tendency to whisper in such a quiet atmosphere, I spoke to Sr Luke, the monastery's Bursar. The parlour is darkened and, with the chairs set in rows, it was a room reminiscent of a theatre. As a contemplative order, the nuns' access to the outside world is limited and there is a designated Sister for media relations. With this Sister unavailable, an apprehensive Sr Luke appeared from behind a withdrawn wooden panel and iron grate.
Their day begins at 5.20am, when the community of 17 Sisters come together for silent prayer. What follows morning prayer is a careful balance and regular alternation between work, prayer and recreation, although as it was a feast day for the Carmelites, their tasks were lighter, such as making rosaries and other crafts.
Work for the Carmelite Sisters involves gardening, housework and making six million altar breads every year for churches in Westminster Diocese, including the Cathedral. Sr Luke understands that "to most people, our work might seem mundane but it leaves our mind open to be filled by God as He chooses".
"As I cook, dampen or cut the altar breads, sometimes I pray for those who work in factories, or those who are unemployed. However, sometimes my mind is just completely quiet or preoccupied with the work at hand," continues Sr Luke thoughtfully.
In a city permanently glued to its smartphones, it seems incredible to think the Sisters could complete their work in total silence. "St Teresa of Avila was a very practical woman and she understood that without recreation, the silent times would be much more difficult," insists Sr Luke. "So when the bell rings for recreation, there are great eruptions of laughter and chatting."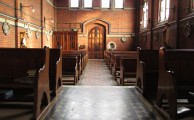 A later saint, Thérèse of Lisieux, lived a very accessible and practical life as a Carmelite nun, following her 'Little Way' of encountering life's everyday challenges with love (many of us remember the visit of her relics to the Cathedral). She is held precious by both the Carmelite Order and many beyond. As Sr Luke says: "I was drawn to the Carmelite life through the simplicity of St Thérèse of Lisieux's Little Way – it was nothing grand."
However, the Sisters are attracted to the silence of contemplative life for many different reasons. Speaking of her personal experience, Sr Luke says: "I had rebelled from the Church by not going to Mass for two years. In that time, I worked for Age Concern and was interested in social action. Only after a pilgrimage to Lourdes, where I saw the strength of the sick and dying, did I feel the call to God. I went home and told my mother I wanted to spend time with God and she panicked because I was so changed by my experience at Lourdes."
"I knew I wanted to give God everything, including something that would cost me. I'm naturally a very vivacious and talkative person," she smiled.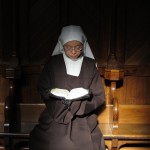 Not everyone is equipped to become a Carmelite, but Sr Luke says assuredly: "We are normal, healthy women. There is a misconception that we're withdrawn individuals or somehow different but we're usually just the opposite – even extroverted. We're regular women from all different walks of life and from
all different nations."
"We go through many of the same challenges as people outside these walls, such as finances and taking care of our home – the monastery. An additional challenge would be the realization of not having children, but that passes."
Society holds several misconceptions of contemplative religious life. "Society often thinks of us as escaping from life, hidden behind a pious façade with no worries or cares. This could not be further from the truth. We are very aware of the challenges of the outside world and we withdraw from society in order to re-enter and embrace it at a deeper level. We receive prayer requests from all around the world and although we do not have television or radio, are often are the first to hear of conflicts and disasters because people call asking for prayer."
The Carmelite Monastery of the Most Holy Trinity, Notting Hill was founded on 29 September 1878 to be a spiritual powerhouse for the evangelization of England. Seven Sisters from the first French Carmel in Paris were sent to establish a new contemplative monastery in London in the spirit of St Teresa of Avila. This sixteenth-century Carmelite reformer reinstated solitude into the life of Carmel and promoted a personal relationship with God.
Despite perilous periods, including two world wars, the Sisters continue in their cloistered life and contemplation. Sr Luke described the Carmelite Sisters and contemplative life in general as being like the engine room of a ship. "The engine is below deck, unseen and not thought of often, but it drives the ship. In the same way, I like to think we are a loving force behind society as we pray for it."
This 'Carmelite engine' is a large international association of autonomous monasteries. "I feel at home in any Carmelite monastery. The spirit of St Teresa is very much present, even though we may interpret it differently externally". When speaking of her simple dark brown habit, and black veil, Sr Luke feels it helps her be a witness to her faith. "I think young people are attracted to the habit because it is counter-cultural, it is poor and it says we are followers of Christ".
Following Pope John Paul II's call to put more of God on the
internet, the Carmelites have a very active website at carmelitesnottinghill.org.uk, as well as podcasts. The Sisters also keep up a YouTube channel (nottinghillcarmel) chronicling everything from solemn professions to the woodpeckers and hedgehogs found in their three acre garden.
As the interview drew to a close, the iron grate was shut across the window and the wooden panel replaced, again dividing outside society from its engine below deck. The usual relief found at the end of a good interview was replaced by a thirst for more of their inner and outer peace. Perhaps if we all lived life in a more contemplative fashion we might read fewer news stories of people filled with malice and more about hedgehogs and productive social action.
Interview by Carolyn Wickware