Joy, tears and healing were the three words Cardinal Vincent used to describe our 2018 pilgrimage to Lourdes, as we brought our week to an end with a busy day.
The pilgrims gathered for three events on the fifth and final day, starting with Mass in the Grotto before our diocese led the Blessed Sacrament procession in the afternoon, and the pilgrimage officially came to a close in the evening with a ceremony and lighting of our diocesan candle.
The morning Mass was celebrated under glorious mid-morning sun and, having heard the Gospel of the wedding at Cana, Cardinal Vincent preached on these three words of joy, tears and healing. We were also reminded, once more, to come before Mary in prayer: 'We learn in the Gospel today,' said Cardinal Vincent, 'that Jesus is unable to resist the word of his Mother, so she will take our petitions to him and he will certainly grant all that his Mother asks.'
Unfortunately, due to the hot weather, the afternoon Blessed Sacrament procession was restricted to only the Underground Basilica; however the true sense of the procession was not lost. In processing we see many things about our faith, with many opportunities to pray.
We saw that Jesus walks with us, that he is always accompanying us, especially in our sufferings and illness'. Our prayer in front of Christ was a prayer of love, a public expression of our love of Jesus Christ, and a thanksgiving prayer for the love that Jesus Christ has for us.
Then came the evening. Our Diocesan candle was lit, amid a twinkling array of others, carrying with it all our prayers for family, friends and every member of our diocese.
Lighting the candle was a most fitting end, for in praying in this way we leave our prayer with the Virgin Mary and God as we enter back into our every day lives.
Once again, all the photos taken during the day are on Flickr.
Having finished celebrating Mass in the Grotto, Cardinal Vincent collected some thoughts on our Pilgrimage to Lourdes.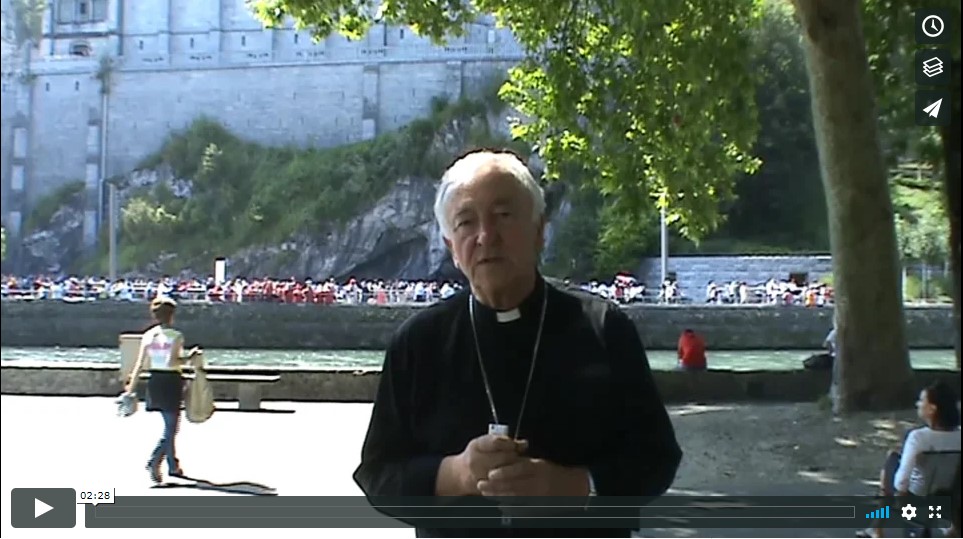 Lourdes Pilgrimage 2018 - Day Five from Catholic Westminster on Vimeo.
A day through the eyes of a seminarian...
Today I did something which I had never done on previous visits to Lourdes. I decided to enter the baths. After looking for a few answers from those who had done it, I made a firm decision to take the plunge. Once inside, and having undressed as we waited to be beckoned to enter beyond the inner curtain, I felt a variety of human emotions. First, a sense of equality among all of God's children, that in spite of our differences we were all heading for the same curtain. Second, a sense of how precious is God-given life, however strong or frail our bodies may be. Third, it was moving to see the care of the staff assisting those with special needs. Fourth, I found it healthily disempowering as I didn't really know what was going to happen. I had lost my outer security and I was in the hands of others but I knew that through it I could immerse myself in the loving purpose of God. Most importantly, we were encouraged to bathe the whole experinece in prayer as the Rosary led us out of ourselves to contemplate our own intentions before heaven.The immersion itself was simply breathtaking as the water was wonderfully cold. Coming out I felt wonderfully refreshed and as light as a feather wondering why I hadn't done it before. My last emotion was one of joy and tears at the graciousness of Our Lady in opening up this conduit of God's love. If you have the opportunity, do take the plunge; don't be like Naaman!
Julian Davies, Allen Hall