As part of CAFOD's G7 Youth Delegation, Caitlin Boyle, Caritas Westminster's Information Officer, spent the past weekend in Cornwall with CAFOD, campaigning to get global leaders to act on some of the most pressing global injustices. Here she shares her thoughts on being part of this moment.
For as long as I can remember, I have been interested in campaigning for social justice, a key factor in why I wanted to work for Caritas Westminster, the social action agency of the Diocese of Westminster. A pivotal moment for me was when I attended World Youth Day in Panama and in the closing Mass, Pope Francis reminded the 700,000 young people in attendance that young people 'are not the tomorrow… you are the now of God… continue to walk, continue to live the faith and share it.' This call for action resonated strongly with me, and so I endeavoured to always walk and live the faith and share it in whatever way I could.
This year's G7 Summit was always going to be an important one. It's the first one to take place since the pandemic started, and thus the decisions made by leaders will contribute to the way in which the world rebuilds and recovers. It is also one of the two major gatherings of world leaders that the UK will be hosting this year, alongside the COP26 climate talks in November. The UK, therefore, has a crucial role to play this year in setting the tone for how the world emerges from the pandemic.
We arrived in Cornwall on Thursday evening, and hosted an interfaith service at Truro Cathedral, where activists and speakers from different corners of society came together to share messages which we wanted to send to G7 leaders. Being part of this event reminded us that the Catholic message of the need for a more sustainable, equitable, and dignified future is something that resonates with all people.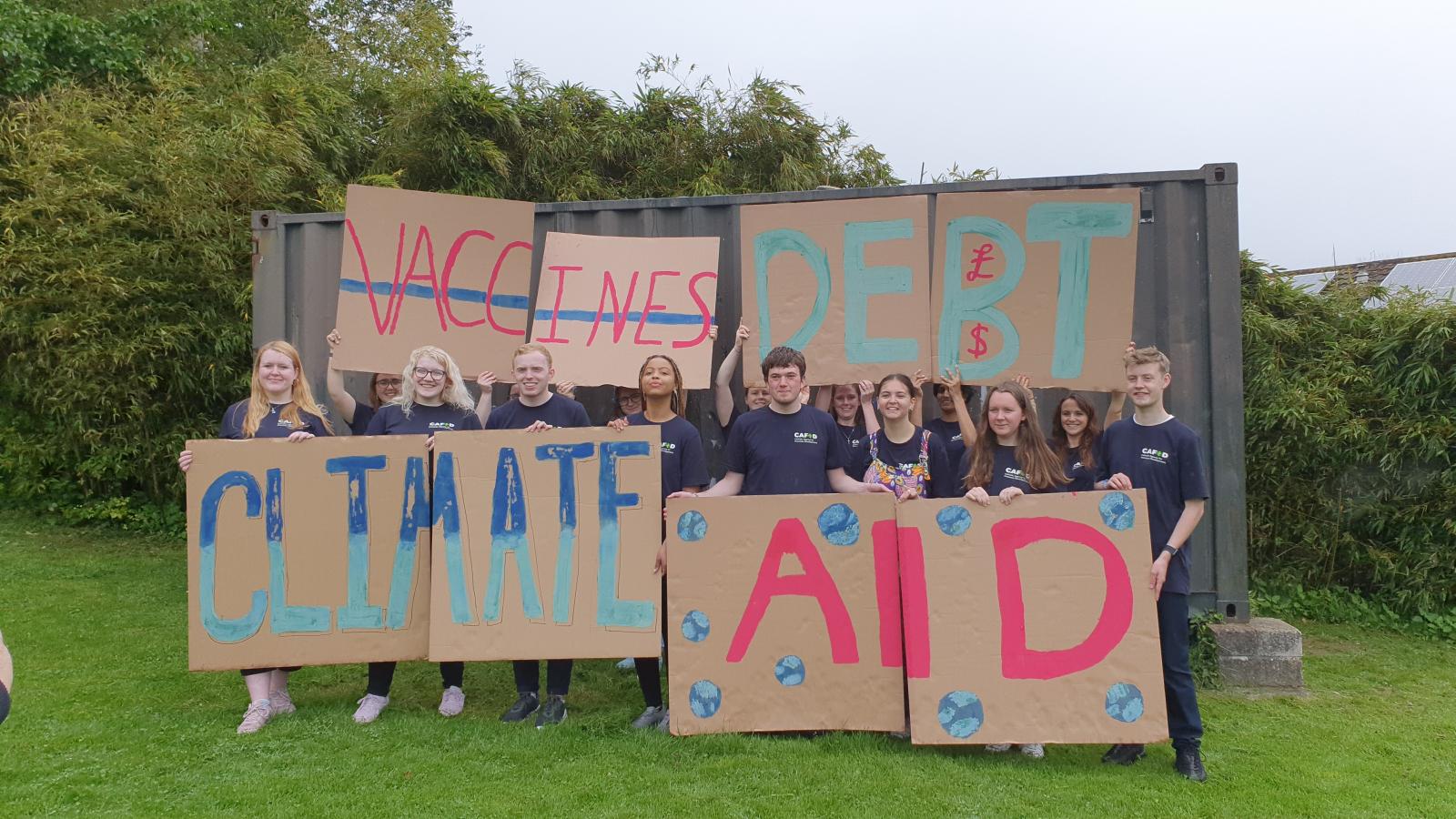 On Friday, we visited St Mary's Catholic Primary School in Falmouth, to help with an art installation, as part of CAFOD's Eyes of the World campaign. Reading the messages which the children had written to world leaders was very moving. They are the future, and will be most adversely affected by these issues, and it highlighted the fact that this is an intergenerational endeavor. Later that evening, we attended a vigil on a beach overlooking Carbis Bay, the centre of the summit discussions, where we had a chance to pray for the 3.7 million people who have lost their lives due to COVID-19, and for the leaders involved in the G7 summit, to have the courage and integrity needed to make the best decisions for society.
An experience which particularly showed me the power of collective action took place on Saturday when we attended the Surfers Against Sewage 'paddle out' and took part in the Drop the Debt campaign with some of CAFOD's partners. Whilst we did so, people began coming over to us: journalists and reporters wanted to ask us questions, local parents and children thanking us for raising awareness of these issues, and individuals telling us that they were praying us to continue campaigning for social injustice. So many people responded to the message we shared!
At our final Mass, Fr Jim Conway SJ, our assigned chaplain, commissioned us as delegates, so that we could continue our work once we had returned home. Our last task was to see the Young Christian Climate Network start their relay, which will see them walk from Cornwall, and across the country, arriving in Glasgow ahead of COP26. It was an apt reminder that the work we started in Cornwall won't end there!
Pope Francis has said that 'the pandemic has brought us to a crossroads. We must use this decisive moment to end our superfluous and destructive goals and activities and to cultivate values, connections and activities that are life-giving.' For me, the G7 Summit was a decisive moment, and being able to accompany fellow CAFOD young campaigners, whose passion for social justice was also rooted in Catholic Social Teaching, allowed me to cultivate values, connections and activities that were life-giving and will stay with me for a long time.
Photos: Liam Finn/CAFOD (Header & Body)