Catholic schools in the Diocese of Westminster have been responding to the coronavirus pandemic by producing Personal Protective Equipment (PPE) for NHS staff and key workers.
At the John Henry Newman School in Stevenage, a team of teachers and volunteers has produced more than 3000 visors for organisations across North Hertfordshire and Bedfordshire. The project was set up by DT teacher Sara Gallagher, who was inspired to produce the visors after seeing similar initiatives and designs from teachers on social media. Once a design was decided upon and materials sourced, the first visors were produced on the school's laser cutter in the DT workshop. Such is the demand, Sara has set up a fundraising page to raise money to buy more materials.
Sara has been assisted in the production and distribution of the visors by two of her colleagues, Maths teacher Nathan Barry and Physics teacher Joanne Moles. A local volunteer who owns her own laser cutter has also contributed to production. Sara shared the design with other local schools through the North Hertfordshire Teaching Alliance. To help meet local demand, the school has worked closely with the Thomas Alleyne Academy in Stevenage, which has provided additional help with the production task using their own DT facilities.
Sara's team continue to organise the distribution of visors to local groups who need them. To date, the 3000 plus visors have been distributed to over 100 local organisations. The recipients include care homes, funeral directors, police officers, community midwives, adult support services, Stevenage Borough Council, physiotherapists, immunising teams for children, the Lister Hospital, nurses, paramedics and Bedford ICU.
Speaking about the project, Sara Gallagher, DT teacher at The John Henry Newman School, said: 'I am happy to be able to use my skills as a Design and Technology teacher in such a positive way in the fight against COVID-19. I have met some incredibly brave individuals working on the frontline, helping them to feel more protected is the least we could do, it motivates you to keep going.'
Face visors produced by staff at the John Henry Newman School, Stevenage
The John Henry Newman School in Stevenage is not the only Catholic school in the diocese producing PPE during the pandemic. As the urgent need for PPE continues, staff and students at St Benedict's School in Ealing, West London, are also working hard to help. The school has produced over 1,000 protective face visors so far and is continuing to manufacture and distribute PPE, locally and nationally, as requests continue to come in.
Assisted by a team of sixth form volunteers, Mauricio Mendes, DT teacher at St Benedict's School, has been producing and distributing essential PPE to hospitals, care homes and doctors' surgeries since mid-March.
The school has received many requests for the visors, from hospitals, care homes and surgeries in west London, including West Middlesex University Hospital, Georgian House Nursing Home and Florence Road Surgery, Ealing. The visors have also been distributed further afield, to care homes in Hertfordshire, Warwickshire and even North Wales.
In addition to providing PPE, St Benedict's also donated its science lab protective equipment, such as goggles, gloves and sanitisers to local hospitals.
Mauricio Mendes, DT teacher at St Benedict's School, said: 'I have designed the visor to be made of one whole strip of polypropylene that goes around the head and holds a protective shield made of clear acetate. We have a fair amount of polypropylene in the Art and Design department, for our school projects, and we had a few dozen acetate sheets. After two days we had used all the acetate available in school, having produced nearly 150 visors. After that, St Benedict's staff came together to donate more acetate and, over the Easter weekend we received enough acetate sheets to produce almost 2000 visors and counting.'
Andrew Johnson, Headmaster of St Benedict's School, said: 'I am very pleased that we have been able to make a contribution, in support of the courageous work being done by NHS and care workers.'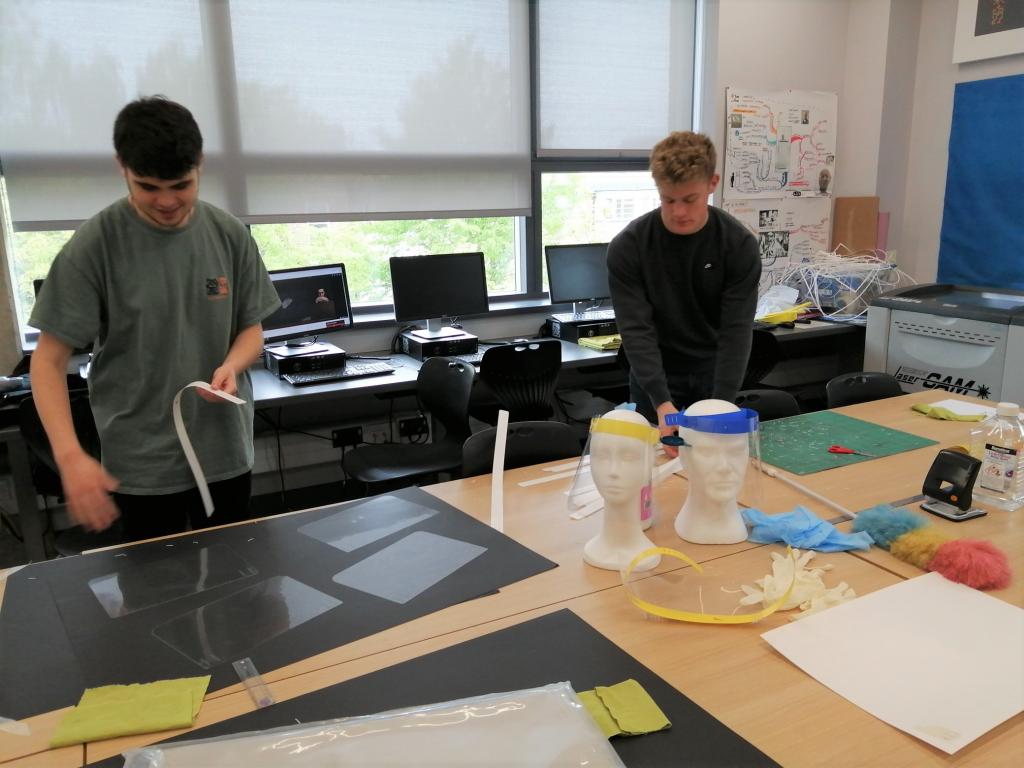 Sixth Form volunteers at St Benedict's School, Ealing, making PPE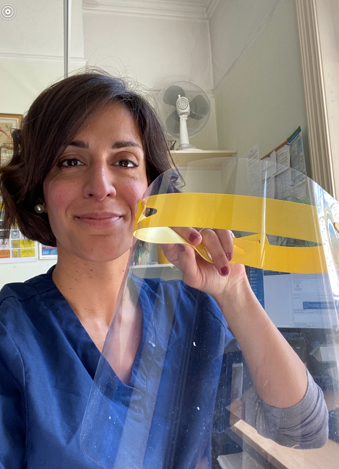 Dr Daisy Lund, a GP at the Florence Road Practice in Ealing, with PPE supplied by St Benedict's School, Ealing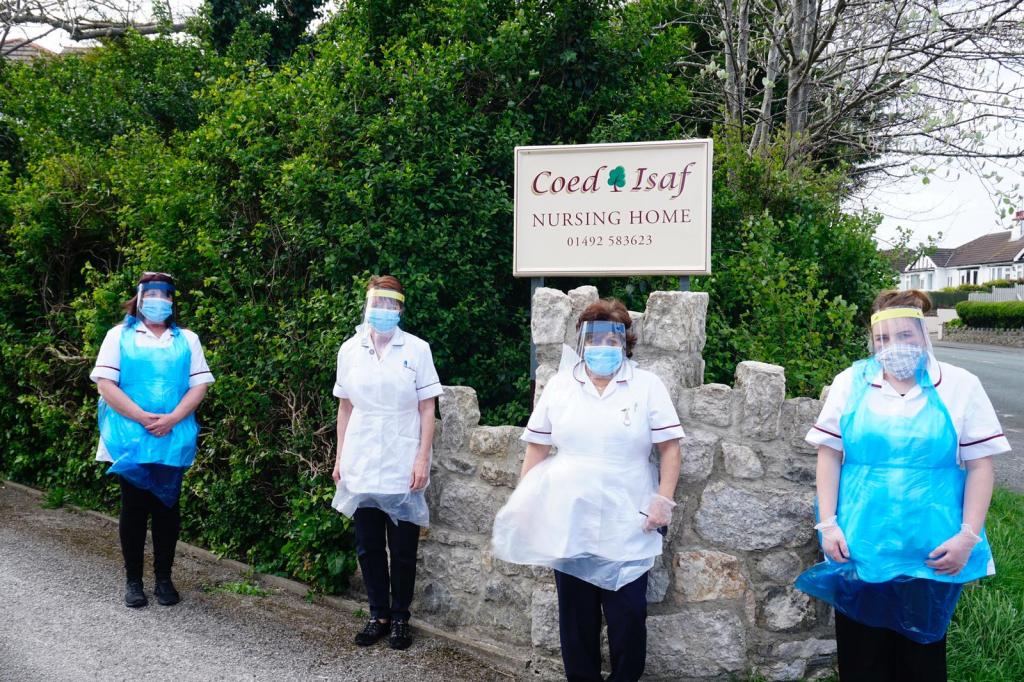 Staff at a care home in North Wales, wearing PPE made at St Benedict's School, Ealing