On Saturday 10th July 2021, Bishop Paul McAleenan met altar servers and members of the Polish Catholic Mission of St Wojciech, based at the Little Oratory church, in the Blessed Sacrament Chapel in Westminster Cathedral, to present them with a relic of Blessed Carlo Acutis. Reflecting on this momentous occasion, Fr Bartosz Rajewski, Polish Chaplain, writes:
A few weeks ago I received an unexpected email from Bishop Paul McAleenan, Auxiliary Bishop for the Diocese of Westminster, who wrote: 'We have received the relics of Blessed Carlo Acutis from Assisi and they are destined for your parish.' I was extremely surprised, as last year in November I had put forward a request for the relics and received a different answer. Meanwhile Blessed Carlo Acutis, (born in 1991 in London into a family of Italian immigrants), who was devoted to the worship of the Eucharist, and who died in 2006 at the age of 15 and was beatified in October 2020, wants to be with us.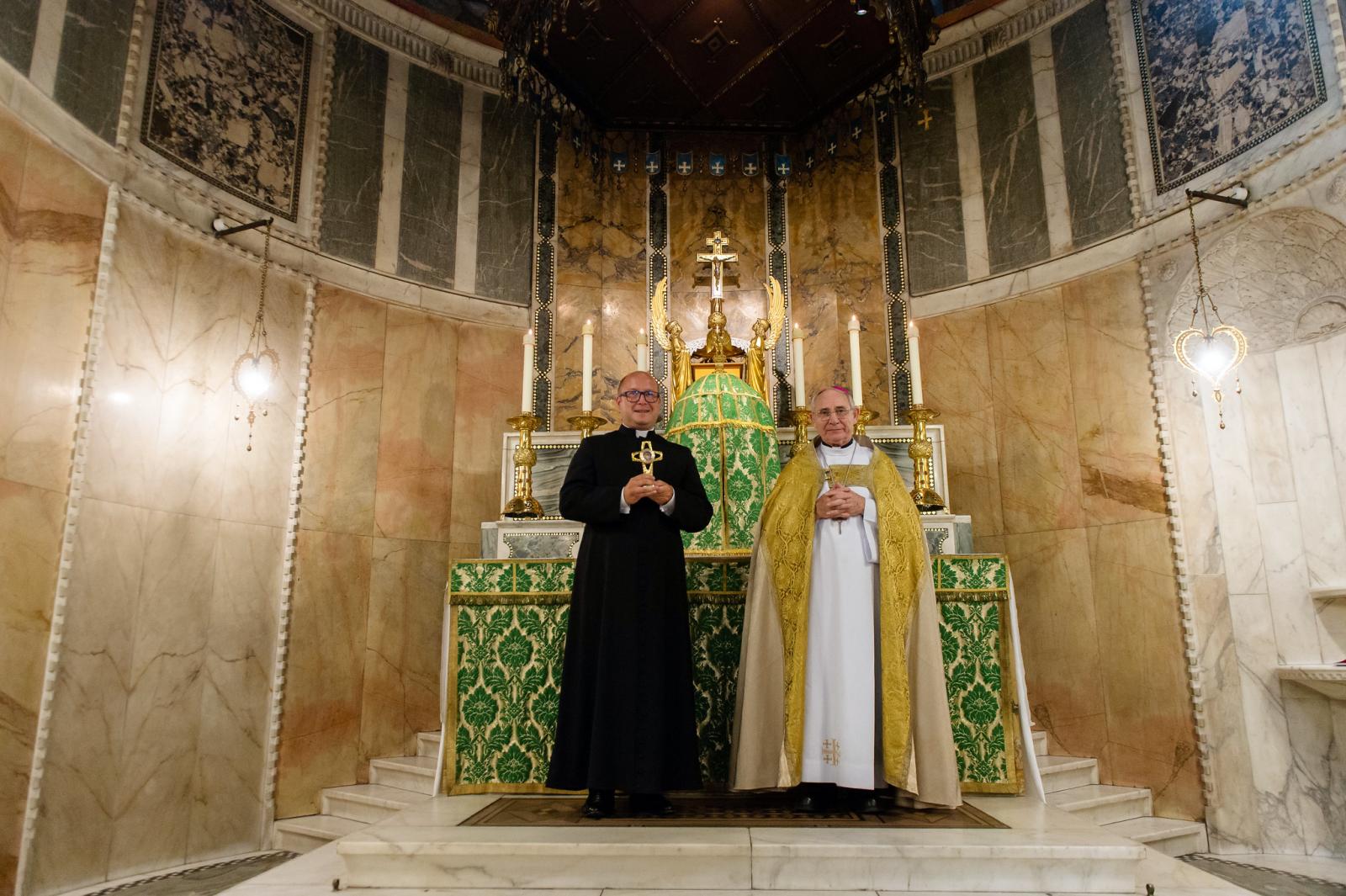 Fr Bartosz receives the relic of Blessed Carlo Acutis from Bishop Paul
Apart from our community, two other London parishes have received relics of the blessed Italian teenager: Our Lady of Dolours Servite Church in Fulham, where Carlo was baptized, and Corpus Christi Church, the Westminster Diocesan Shrine of the Blessed Sacrament on Maiden Lane.
One of Carlo's life maxims was that 'We are meant to move towards our destination which is Heaven and not "die as photocopies".' Was this not the mission of the Twelve whom Jesus sent out two by two, to remind people of this 'destination'? Mark the Evangelist writes: 'They went out and preached that people should repent' (Mk 6,12). The mission, which we have been given by Jesus, continues to be valid: we are to spread the Good News and call to repentance, reminding ourselves of the purpose of our lives. This is the mission of all followers of Christ. Not just the mission of the clergy.
This was also Carlo Acutis' mission in life. Carlo's mother, Antonia Salzano, recalls in one of her interviews that 'he had an ordinary upbringing, a boy who experienced what all the young people of his generation have: he went to school, he had friends, he enjoyed sport. He had a strong personality and was considered a leader at school'.
Carlo stated 'The Eucharist is my highway to Heaven'. Being fascinated by the fact that Jesus was truly present in the Eucharist, he organised an exhibition, which documented the history of Eucharistic miracles of the world. This was a difficult task: he worked on this project for two and a half years and was helped by his parents.
The exhibition has had a phenomenal impact: in the United States it was hosted in thousands of parishes and more than a hundred universities. It has been promoted by several Episcopal Conferences, including those of the Philippines, Argentina and Vietnam and it has travelled to China and Indonesia. Today it is possible to view the exhibition on the website www.miracolieucaristici.org
By using modern technology in this way, Carlo was able to spread the Good News and he still continues to do so.
Nowadays many people consider that preaching the Good News is based on relating pleasant stories with 'a happy ending'. Many people require the preacher only to speak about that which is nice and agreeable, to enable the listeners to 'feel better'. However, the preacher is not 'a coach'. The preacher is the one who calls to repentance. This is the way to spread the Good News, which is why this Good News was and still is misunderstood and the preacher is met with rejection. Rejection is often the fate of the prophet. However, this does not destroy our mission. It is simply a dying seed, which will bear fruit at the right time. In God's time.
This is why we must not get frustrated when spreading the Gospel, when it seems not to be bearing immediate fruit. Parents must not get frustrated when trying unsuccessfully to plant the seed of faith into the hearts of their children. Grandparents should not get frustrated when doing everything to encourage their grandchildren to return to God. It is not right for nuns, monks or ordinary priests to become frustrated when they consider their work to be the proverbial 'ploughing in fallow ground'. Fruit will appear when the time is right. All in God's time.
Carlo Acutis was born into a non-religious family. However, his parents grew closer to God as they were influenced by their son's questions about faith and as they supported him in his ideas and initiatives, which resulted from his faith. Everything has its time.
The relics of Blessed Carlo will be held at St Patrick's Church in West Hendon until the reopening of the Little Brompton Oratory, the church, which accommodates our Local Polish Catholic Mission in South Kensington.
From today Blessed Carlo Acutis is present among us through his relics and he will effectively remind us that our purpose is to spread the Good News. Not so much through words but by our testament to life. He will remind us that nothing is ever completely lost. We have not had all the evangelistic tools or methods knocked out of our hands. No, we are not helpless or frustrated. The history continues. And this is exceptionally good news for me, for you and for the entire Church!
It is hoped that the relic will be introduced to the Local Polish Catholic Mission in October.
Photos: Mazur/CBCEW.org.uk