by Sr Silvana Dallanegra rscj, Caritas Westminster Development Worker for West London
'Be joyful, keep the faith, do the little things that you have seen me do…'
On 1st March, these words from St David, his last words to his monks, were generously shared across social media in celebration of his feast day. We're not sure exactly what these 'little things' were, but we can imagine they were acts of kindness, filled with patience, tenderness and love.
Nine days later, we kept the memorial of St Frances of Rome, a wealthy wife and mother whose service of the poor included washing and mending their clothes. These she would then fold with lavender, to keep them lightly fragranced, just as she would do for her own clothes. It's a rather exquisite little detail which speaks volumes about her underlying attitude of great loving kindness towards those she served, regardless of their place in society. Simply laundering their clothes would have been enough for her beneficiaries, but not for St Frances. Long before any encyclicals embedded the innate, God-given dignity of all people at the heart of Catholic Social Teaching, St Frances recognised and lived this value, through the simplicity of lavender-scented clothes.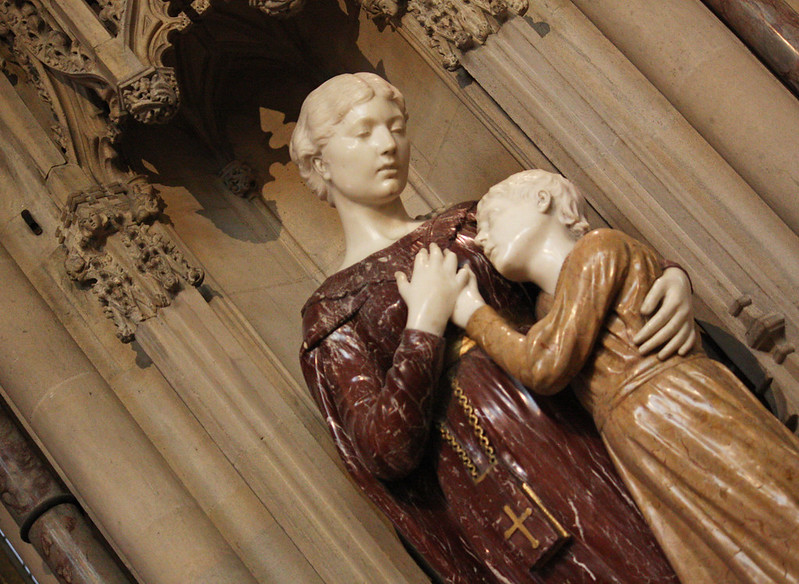 Statue of St Frances of Rome in the Jesuit church on Farm Street
Midway between the 1st and 9th March, I marked four years since I joined Caritas Westminster. In my first three (pre-lockdown) years I would often visit schools, to talk about Catholic Social Teaching and our work. I would explain to the children that Caritas is a Latin word for love: but it doesn't mean romantic love (cue giggles!), or our love for a place or pet; rather, it is a love best expressed as loving kindness. Caritas is the love through which we show our love: through what we do, and how we treat people; the love St John meant when he wrote 'let us love not with words or speech, but with actions and in truth' (1 John 3:18). It's one reason why we named our CST programme for parishes Love in Action.
We are already more than halfway through Lent, the point at which we often struggle to keep our resolutions, or when we start to look for loopholes or exceptions. This year too, many of us started Lent feeling as if we'd already been living with self-denial for long enough, thank you very much! But Lent, fundamentally, is about showing our love, and Caritas-love gives us plenty of opportunities, great and small; and the 'little things' can often become the means of showing the greatest love.
We can choose to 'give up' some of our time, whether as volunteers in our parishes or a local project, or simply as good neighbours. Whether or not we can go out, we probably know someone who would appreciate a call, and the gift of our interest and our love. We can decide to support a foodbank or other project, and in the spirit of St Frances, add some extra little luxuries to what we give. Every day, we have the chance to do the little things, to show tenderness, patience and selfless love towards our families and friends, as well as those we don't know, and to do this with great joy.
Be joyful… do the little things… and whatever we do, may Caritas-love move us all to add our own equivalent of a sprig of lavender.
Photos: Fr Lawrence Lew OP