In the second of a series of articles by Westminster priests who live and work outside the diocese, Mgr Paul McPartlan shares his experience of working for ecumenical dialogue.
The year 1984 was important for me in two life-changing ways: I was ordained as a priest by Cardinal Hume in Westminister Cathedral in July and earlier that year I met John Zizioulas, generally regarded as the greatest living Orthodox theologian, then still a layman and a professor in Glasgow. He came as a visiting professor to give a course at the Pontifical Gregorian University in Rome in the spring semester and stayed with us at the Venerable English College. That meant that lectures could be augmented by many evening conversations. I was already interested in ecumenism, but mainly in Catholic-Anglican terms, and I was becoming more aware of the French Jesuit Henri de Lubac, who was a pioneer in the renewal that bore fruit at Vatican II. It was de Lubac who coined the famous slogan, 'the Eucharist makes the Church', and I discovered that that was a decisive principle for Zizioulas also. In fact, the 'eucharistic ecclesiology' built on that principle framed the international Catholic-Orthodox ecumenical dialogue that was then just starting.
The immediate result was that in 1985 I went to Oxford and began my doctoral research on the meaning of that principle for de Lubac and Zizioulas. The outcome was a thesis and then a book entitled: The Eucharist Makes the Church: Henri de Lubac and John Zizioulas in Dialogue (1993; second ed., 2006), and an abiding fascination with Catholic-Orthodox relations.
Jumping forward, in 2005, after ten years teaching systematic theology at Heythrop College in the University of London (just along Kensington High Street from Our Lady of Victories where I spent four happy years as an assistant priest after Oxford), I was invited by the Catholic University of America to be a visiting professor there in the academic year 2005-6. With Cardinal Cormac's permission, I duly headed to Washington DC and gave courses on ecclesiology, ecumenism, Eucharist, ordination, and Vatican II in a busy first year in another university and another country.
Like 1984, 2005 also has a dual importance for me. As well as heading to the USA, I was appointed to be a member of the international Catholic-Orthodox theological dialogue that was relaunched that year with many new members and two new co-chairmen: Cardinal Walter Kasper on the Catholic side and Metropolitan (since 1986) John Zizioulas on the Orthodox side! That was a dream come true, and the years since then have been regularly punctuated with trips across the Atlantic either back to the UK, which will always be home for me, or to various European destinations for dialogue meetings of various kinds, most recently Crete and Cyprus in spring 2018.
The fact that I'm still at Catholic University is not just an accident, a visiting appointment that somehow lasted many years. Rather, in that first year, the university was advertising one of its endowed chairs, the Carl J Peter chair of systematic theology and ecumenism, in the School of Theology and Religious Studies, and they urged me to apply for it. Again with Cardinal Cormac's permission, I did so, and was delighted to be appointed! The position was ideal in that it specifically combined two major areas of interest of mine. As a systematic theologian, my main focus is the study of the Church, or ecclesiology, and that naturally opens into work to try and heal divisions in the Church, namely, ecumenism. With regard to the systematic theology aspect, I had just been appointed to the International Theological Commission (ITC) in 2004, and I went on to serve for two five-year terms till 2014. I was particularly happy to chair the sub-commission that produced the ITC documents, Theology Today: Perspectives, Principles and Criteria (2011), a handbook for Catholic theologians, particularly written with the formation of theological students in mind, and Sensus Fidei in the Life of the Church (2014), which grew out of the other document and tackled an important theme in the teaching of Vatican II, regularly highlighted by Pope Francis, though our work on it began before his election in 2013.
With regard to the ecumenism aspect, as well as being newly appointed to the international Catholic-Orthodox dialogue, I was already serving on the international Catholic-Methodist dialogue, to which I was appointed in 2002 (again serving two five-year terms till 2012), and as a theological consultant to the recently established International Anglican-Roman Catholic Commission on Unity and Mission, an episcopal body with the daunting acronym, IARCCUM! Soon afterwards, I was also invited to join the North American Orthodox-Catholic Theological Consultation, a regional dialogue that tracks the international dialogue in some ways, but also tackles important pastoral issues and does exciting theological work of its own.
So an academic position combining systematic theology and ecumenism suited me down to the ground, and being at Catholic University also feels right as a diocesan priest, since the university was actually founded not by a religious order but by the bishops of the USA in 1887 to be the national university of the Catholic Church. The School of Theology was the first school, and I was honoured to serve as acting dean of the school in 2014-15 when our dean was standing in as provost of the university. The photo shows a proud moment from that year, when I gave the school's highest honour, the Quasten Medal, to Cardinal Kasper.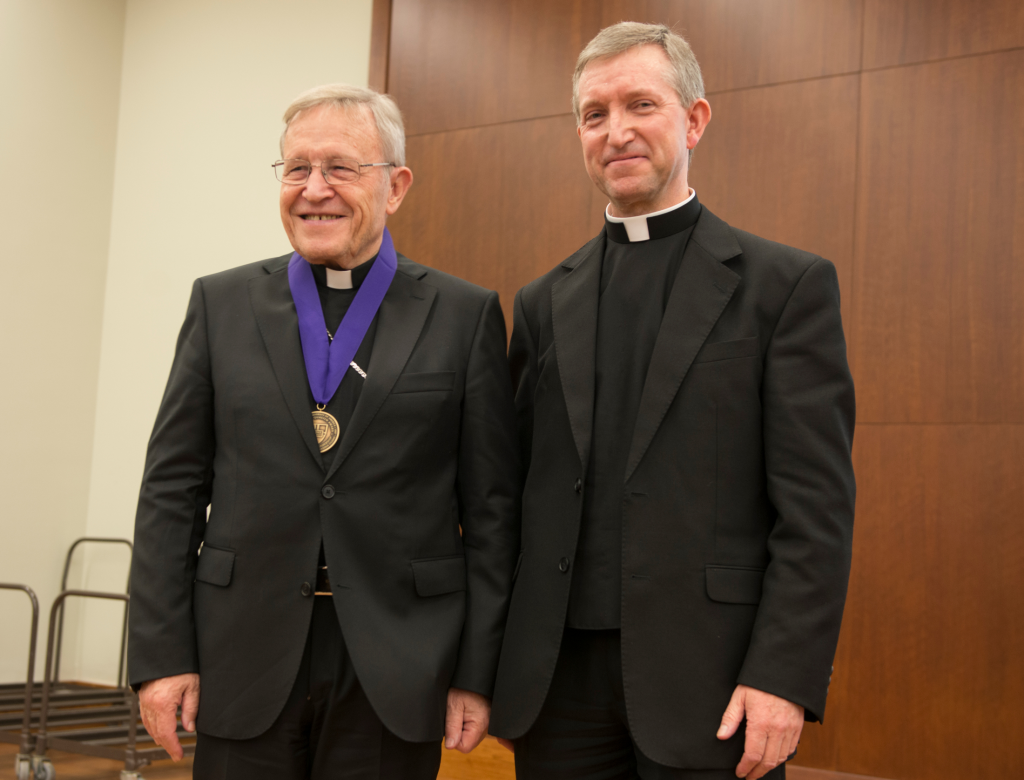 Catholic University still has a very clear sense of its unique identity and mission, in service to the nation and to the Church.As a professor at the university, my main tasks are teaching and research. I teach a range of undergraduates, graduates and doctoral students. We're blessed in our students; they're impressive and dedicated. Some are priests or religious, but most are laypeople, and I feel particularly privileged to give a course each year on ordained ministries to students from our university seminary and from various religious orders who are preparing for ordination. Our graduate students are quite international: my own doctoral students have come from Asia, Africa, and Eastern Europe, as well as the USA.
Much of my research is related to ecclesiology and ecumenism, and to theological issues arising in the context of Catholic-Orthodox dialogue. For example, the most sensitive issue between Catholics and Orthodox is the papacy. The split between East and West, traditionally dated to 1054, occurred when a very juridical approach to the papacy was gaining ground in the West, with the Church understood as a pyramid with the pope at the top. By contrast, in the early centuries, the bishop of Rome stood at the centre of a communion of local churches, united especially by the one mystery of the Eucharist. That early picture has recently been coming back into view, thanks to the teaching of Vatican II and developments since the council, and a eucharistic approach to the papacy has a lot of ecumenical potential. I recently explored that avenue in my book, A Service of Love: Papal Primacy, the Eucharist, and Church Unity (2016).
Pope Francis, who visited our campus in 2015, is carrying forward the renewal desired by the council in dramatic ways. It's a joy to be at Catholic University at such an exciting time for the Church and certainly for ecumenism.