Each year, the Cardinal's Lenten Appeal raises funds to support projects across the diocese. These projects, run by parishes and communities, alleviate the suffering of the most vulnerable people. Catherine Parkinson runs a local project supported by the Cardinal's Lenten Appeal and Caritas Westminster. Here, she shares her story of how lockdown impacted her work.
'We are helping local families who mainly have children school-aged. Five years ago we set up our Summer Hamper Scheme which is part of the Radlett and Aldenham Churches Together group. We began with 10 families, many with children at schools who would normally benefit from a school meal during term time. Some had been flagged up as being vulnerable families who may need a little kindness and support shown them from the community. As a local teacher I liaise with the Head teachers and take advice on which families are most needy.
'In December 2019 we had 20 families but by the start of the pandemic we had 40. All families have children but some are now Secondary aged.
'Initially, as the name suggests, we supported families throughout the 6 week summer holiday by delivering food parcels weekly to their doorsteps. We asked parishioners for donations and bought the food weekly. It was delivered by a team of drivers from our local churches and the community at large. We then offered a Christmas hamper, asking separately for donations of chocolates, biscuits and goodies, to enable us to do a lovely posh hamper!
'We then realised help was needed at Easter and steadily, we found ourselves supporting families throughout the school holidays. By the start of lockdown in March 2020 we realised that we would need to do weekly deliveries. We did this until the end of August 2020. What I really like about our scheme is that there is no asking or begging on behalf of the recipients; we deliver, no questions asked. Food banks are wonderful but people have said how hard it is to have to go there.
'Who helps? Parishioners from all our churches help out. We have non church goers and members of non Christian churches helping too. Another lovely part of it is bringing everyone together. There are three ways of helping: donate money or non perishable food, help pack, or help deliver!
'We also aim to give good food trying to avoid anything we would not be happy to eat ourselves. Since March 2020 we have used a local company which gets us fresh fruit and veg at cost price from the markets; a local dairy drops off bread, cheese, milk, eggs, butter weekly; our local butcher gives us a good deal of fresh meat, for example a chicken, sausages, and ham each week.
'Sometimes it is just knowing that someone cares which I think makes a difference. We have been able to keep the drivers delivering to the same families in lockdown so that they can build a relationship with the families. It is so important too that the Church is in touch with the wider community and aware of its needs. Sometimes this is not easy to see and many volunteers have had their eyes opened.
'Very generous donations from our parishes, friends and of course organisations like yours have enabled us to continue serving our community.'
Please continue to support Catherine's work by donating to this years Cardinal's Lenten Appeal. With your support and prayers, hope will grow, filling the hearts of those who despair.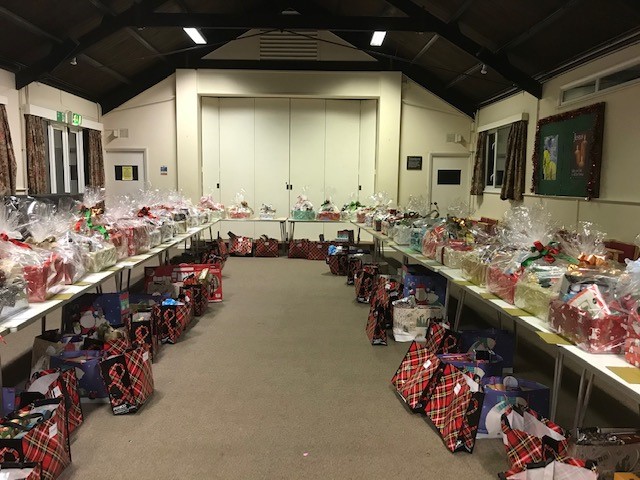 Catherine's Christmas Hampers, laid out ready for collection