The Diocese of Westminster has committed to do its utmost to become carbon neutral in its parishes and curial buildings by 2030, and has expressed a commitment to work with schools to help them achieve the same goal.
The journey is considerable and complicated, requiring active collaboration with a number of internal and external stakeholders. Part of the complexity of calculating the diocese's carbon footprint comes from the disparity between Location Base and Market Base carbon.
As the diagram below makes clear, the Location Base measures energy consumption from the Grid, which comes from a variety of sources, and therefore has the carbon intensity of the Grid as a whole, regardless of what is purchased by the diocese. The Market Base has a lower carbon intensity, as it measures that which is purchased from chosen suppliers, and is mostly from renewable sources.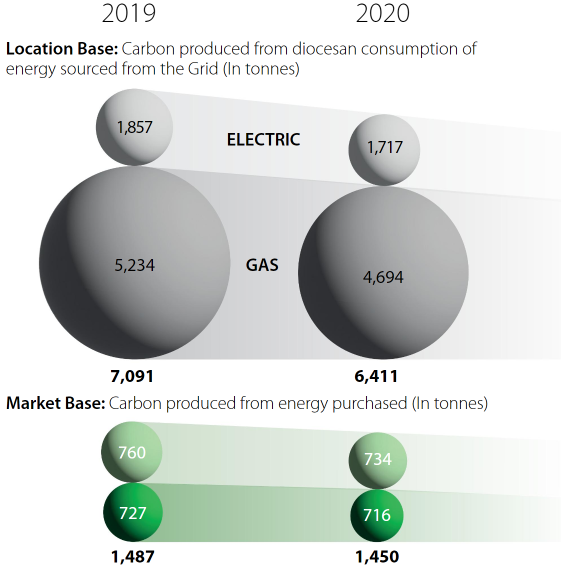 In pioneering this way of calculating the figures, the diocese has produced a more honest way of measuring the process of decarbonisation.
These figures include assumptions on the properties for which the Diocese of Westminster does not have information. As the process matures, it is hoped that estimates will be replaced in due course by actual figures. It is important to note that this information only includes parishes that are consolidated in the Annual Accounts.
Contributing to this steady reduction, the Diocese has:
divested from fossil fuel companies which are not aligned to the Paris Accord commitments

calculated the estimate of carbon footprint for curial and parish buildings

begun a pilot with a small number of parishes to help them find ways to reduce their carbon footprint

been working on transitioning 21 parishes that did not obtain all of their gas and electricity from green sources*

conducted detailed audits of 35 schools on energy use and made strong recommendations on how they can reduce their carbon footprint.
While there is still a long way to go in reaching carbon neutrality, this represents a significant first step. It has already been anticipated that initial years will not show a substantial reduction in carbon usage, with most of the reduction expected after 2025.
*Eight parishes do not have green-sourced gas and electricity, 12 do not have green-sourced electricity, and one does not have green-sourced gas.