The Roman Catholic Diocese of Westminster is committed to excellent service. We believe that giving should be an enjoyable experience. We work hard to ensure that all of our interactions with current and potential donors are of the highest quality. We are registered with the Fundraising Regulator, and have signed up to the Fundraising Promise, demonstrating our commitment to best practice.
We aim to set the highest standards for our fundraising activity. However, there may be times when our fundraising falls short of these and when this happens, we would like to know so we can address these as quickly as possible to put things right and make necessary improvements. We take any complaint very seriously and promise to investigate these thoroughly.
Our policy is:
to provide a fair complaints procedure which is clear and easy to use for anyone wishing to make a complaint.
to publicise the existence of our complaints policy and procedure so that people know how to contact us to make a complaint.
to make sure the relevant individuals at the Diocese of Westminster know what to do if a complaint is received.
to make sure all complaints are investigated fairly and in a timely way.
to make sure we respect confidentiality and record complaints consistently.
to make sure that complaints are, wherever possible, resolved and that relationships are repaired.
to gather information which helps us to improve what we do.
Fundraising complaints should pertain to an action or area which is within the remit of the Roman Catholic Diocese of Westminster. If you believe that we have not complied with the Fundraising Promise, and therefore may be in breach of the Code of Fundraising Practice as outlined on the Fundraising Regulator's website, please raise your concerns following the steps below.
How to complain:
Please fill in this form and return it to our Supporter Care Team at supportercare@rcdow.org.uk or post it to Feedback, Office of Fundraising and Stewardship, Vaughan House, 46 Francis Street, London, SW1P 1QN
Please include your name and contact details in your email or letter so that we can get back in touch with you easily.
How we will deal with your complaint:
Our aim is to acknowledge any complaint within 5 working days of the complaint being received;
If we cannot resolve your complaint immediately, then we will investigate your complaint and issue you with a further response/outcome within 10 working days of receiving your initial complaint;
If you are dissatisfied with the initial response to your complaint, then you must inform us, and your complaint will be escalated to Stage one (see 'quick guide' at the end of this document), where the Director of Development will take on board your complaint. An acknowledgement will be sent in writing (within 5 working days of receiving your response) and an expected timescale for the review to be carried out will be given. The review will be completed within 25 working days of receiving your response. If an extension is necessary, we will inform you of the reason and provide you with an update.
An escalation to Stage two (see 'quick guide' at the end of this document) is recommended, should a complainant still feel the investigation and review outcome are not satisfactory.
Withdrawal of a complaint:
If a complainant chooses to withdraw their complaint, they will be asked to confirm this in writing.
Abusive or threatening behaviour:
The Diocese will not tolerate unacceptable behaviour and will act to protect Clergy, employees, office holders and volunteers ('diocesan personnel') from such behaviour, including that which is abusive or threatening. In response to abusive or threatening behaviour towards 'diocesan personnel', the Bishop or the Chief Operating Officer will write to the complainant, explaining that their behaviour is unacceptable.
Serious incidents of violence or aggression:
In response to any serious incident of aggression or violence, the Diocese will immediately inform the police and communicate these actions in writing to the complainant.
Amendment of this Policy and Procedure:
The Diocese reserves the right to amend this Policy at its discretion.
Quick Guide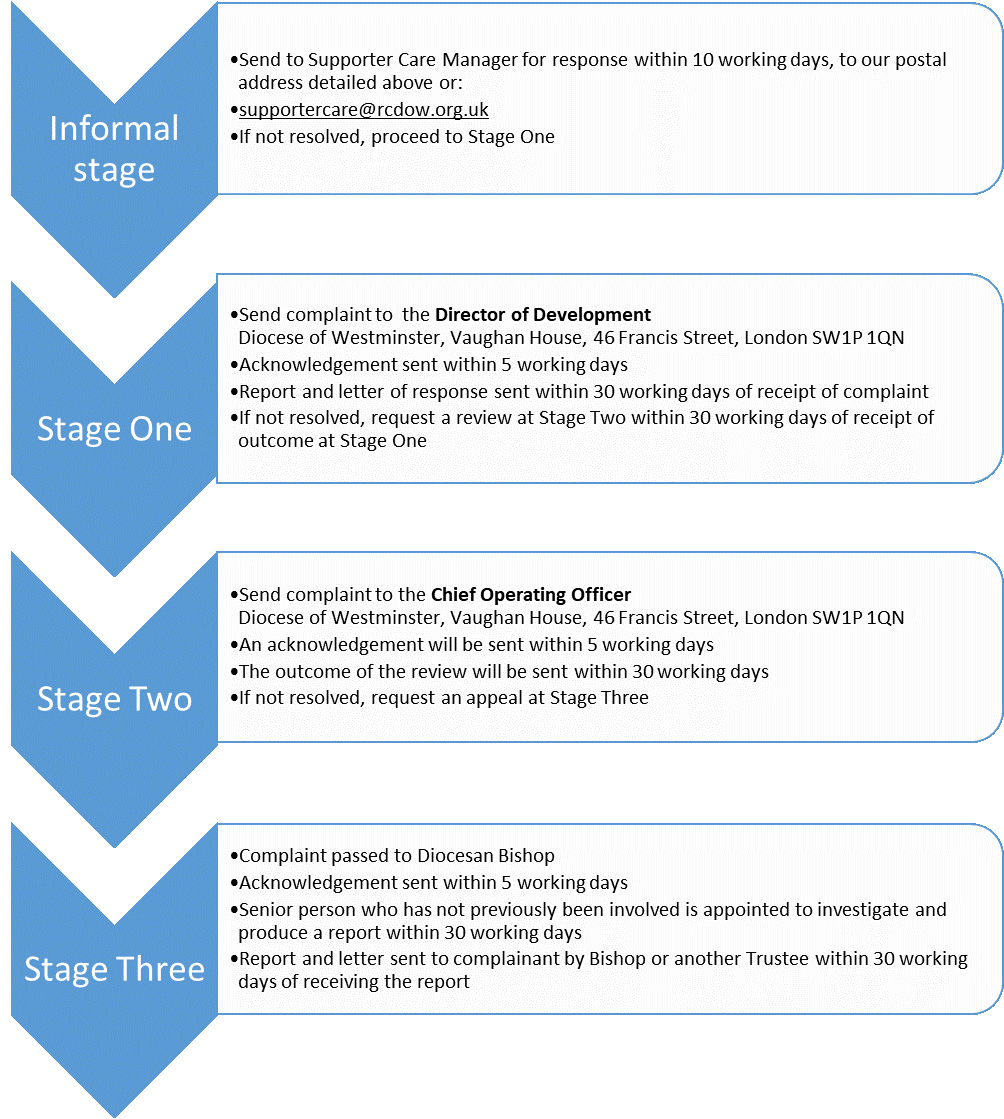 If you are still dissatisfied with the response you have received, then we advise complainants to refer their complaint to the Charity Commission at any stage if they consider there is serious risk of significant harm to, or abuse of the Diocese, its beneficiaries or assets. However, the Charity Commission requires complaints to be made to the Charity in the first instance, or for there to be a reason why this could not be done. Information about the kind of complaints that the Commission can involve itself in can be found on their website at: https://www.gov.uk/government/publications/complaints-about-charities