Cardinal Cormac Murphy-O'Connor
Cardinal Cormac Murphy-O'Connor was born on 24 August 1932 in Reading, Berkshire, the fifth son of Dr George Murphy-O'Connor and his wife, Ellen.

His brothers Brian and Patrick were priests of the Portsmouth diocese. His brother, James,was a doctor. His fourth brother, John, a Regular Officer in the Royal Artillery Regiment, died at the age of 32. His younger sister, Catherine, died in 2006.

Cormac Murphy-O'Connor was educated at Presentation College, Reading, before boarding at Prior Park College, Bath, for his secondary schooling. He began training for the priesthood in 1950 at the Venerable English College, Rome. Whilst at the College, he took a degree in philosophy (PhL) and theology (STL) at the Gregorian University, Rome. He was ordained priest in Rome on 28 October 1956.

In England he was appointed to Corpus Christi Parish, Portsmouth. In 1963 he was transferred to the Sacred Heart Parish, Fareham, as assistant and appointed diocesan Director of Vocations. In the summer of 1966 he became private secretary and chaplain to the Bishop of Portsmouth, the Rt Rev Derek Worlock. He played a key part in helping Bishop Worlock establish the first Diocesan Pastoral Centre at Park Place, Wickham. He also played a part in the preparatory stages of the first National Conference of Priests in 1970.

In September 1970, he was appointed parish priest of the Immaculate Conception Parish, Portswood, Southampton. His term as parish priest was brief: at the end of 1971 the Holy See appointed him Rector of the Venerable English College, Rome, giving him responsibility for the training of students for the priesthood. While Rector he acted as host to the Archbishop of Canterbury, Dr Coggan, on the occasion of his historic visit to Pope Paul VI in 1977.

On 21 December 1977 Cormac Murphy-O'Connor was ordained Bishop of the Diocese of Arundel and Brighton. He served as Chairman of the Bishops' Committee for Europe (1978 to 1983), and as Vice-President of the Laity Commission (1978 to 1983). From 1983 to 2000 he was Chairman of the Committee for Christian Unity, and, from 1994 to 2000, Chairman of the Department for Mission and Unity. From 1982 to 2000 he was Co-Chairman of the Anglican and Roman Catholic International Commission (ARCIC), whose latest document, The Gift of Authority, was published in 1999. In 2000 he was awarded a Doctorate of Divinity by the Anglican Archbishop of Canterbury, Dr George Carey, in recognition of all his work for Christian unity. The Cardinal is an honorary bencher of the Inner Temple and in August 2001 was created a Freeman of the City of London.

He was installed as tenth Archbishop of Westminster on 22 March 2000. In November 2000 he was elected President of the Catholic Bishops' Conference of England and Wales. In February 2001 he was created a Cardinal Priest by Pope John Paul II, and assigned the titular church of the Basilica of Santa Maria sopra Minerva. The Basilica houses the relics of St Catherine of Siena, Doctor of the Church and one of the Patron Saints of Europe, the tomb of the Dominican Friar Blessed Fra Angelico, the Patron Saint of Artists, the renowned 'Figure of the Risen Christ' by Michelangelo and frescoes by Fra Filippo Lippi.

Within months of his entry to the College of Cardinals, Cardinal Murphy-O'Connor was appointed by Pope John Paul II as member of four different Vatican offices: the Congregation for Divine Worship and the Discipline of the Sacraments, the Administration of the Patrimony of the Holy See, the Pontifical Council for the Study of Organisational and Economic Problems of the Holy See and the Presidential Committee of the Pontifical Council for the Family. In 2002, he was appointed as member of the Pontifical Council for Culture in April, as member of the Pontifical Commission for the Cultural Heritage of the Church in June and as member of the Pontifical Council for Promoting Christian Unity in October.

In September 2000, he invited Lord Nolan to chair an independent review on child protection in the Catholic Church in England and Wales. The Nolan Review published their First Report in April 2001 and their Final Report, A Programme for Action, in September 2001 out of which a new independent office was established called 'COPCA' to oversee the protection of children and vulnerable adults. In order to consolidate this work, he also commissioned a review, conducted by Baroness Cumberlege, which led to the establishment of the Catholic Safeguarding Advisory Service and the National Catholic Safeguarding Commission.

In January 2002, at the invitation of Her Majesty Queen Elizabeth II, Cardinal Murphy-O'Connor was the first member of the Catholic hierarchy since 1680 to deliver a sermon to an English monarch. This took place at Sandringham, the sovereign's country residence in Norfolk, during the Anglican morning service. Present with the Queen were members of her family and her household.

In 2003 Cardinal Murphy-O'Connor launched a process of spiritual and pastoral renewal in the Diocese of Westminster, called At Your Word, Lord. The programme, which came to a formal end at the close of 2005, led to 20,000 people meeting regularly in weekly faith groups across the Diocese.
In April 2005 he was one of 125 cardinals who elected Pope Benedict XVI following the death of Pope John Paul II.
On reaching the age of seventy-five, he submitted his resignation to the Holy See. He continued until his successor, Archbishop Vincent Nichols, was appointed on 3 April 2009. Cardinal Murphy-O'Connor became the first Archbishop of Westminster to retire, all his predecessors having died in office. He moved to a house on Dukes Avenue, Chiswick, and continued his work in Rome, taking up new posts on the Congregation for Bishops and the Congregation for the Evangelization of Peoples. On a number of occasions he acted as papal representative to such places as Stockholm, India, Bangladesh and Trondheim in Norway. In June 2010 he was named as the Visitor to the Province of Armagh in the aftermath of the Ryan and Murphy Reports on child abuse. After reaching his eightieth birthday in August 2012, many of his Roman commitments ceased and he participated as a non-voter in the conclave of 2013, which elected his friend Cardinal Jorge Mario Bergolio as Pope Francis.
Throughout his life, Cardinal Cormac kept up a keen interest in sport (especially rugby and golf) and music; he was a talented pianist and occasionally performed at charity events and celebrations. He was the author of The Family of the Church (1984) and At the Heart of the World (2004), and a volume of memoirs, An English Spring (2015), and editor of Faith in Europe (2005) and Faith and Life in Britain (2008).
Cardinal Murphy-O'Connor died on 1 September 2017. He is laid to rest in Westminster Cathedral, below the tenth Station of the Cross, near the Chapel of St Patrick..
Cardinal George Basil Hume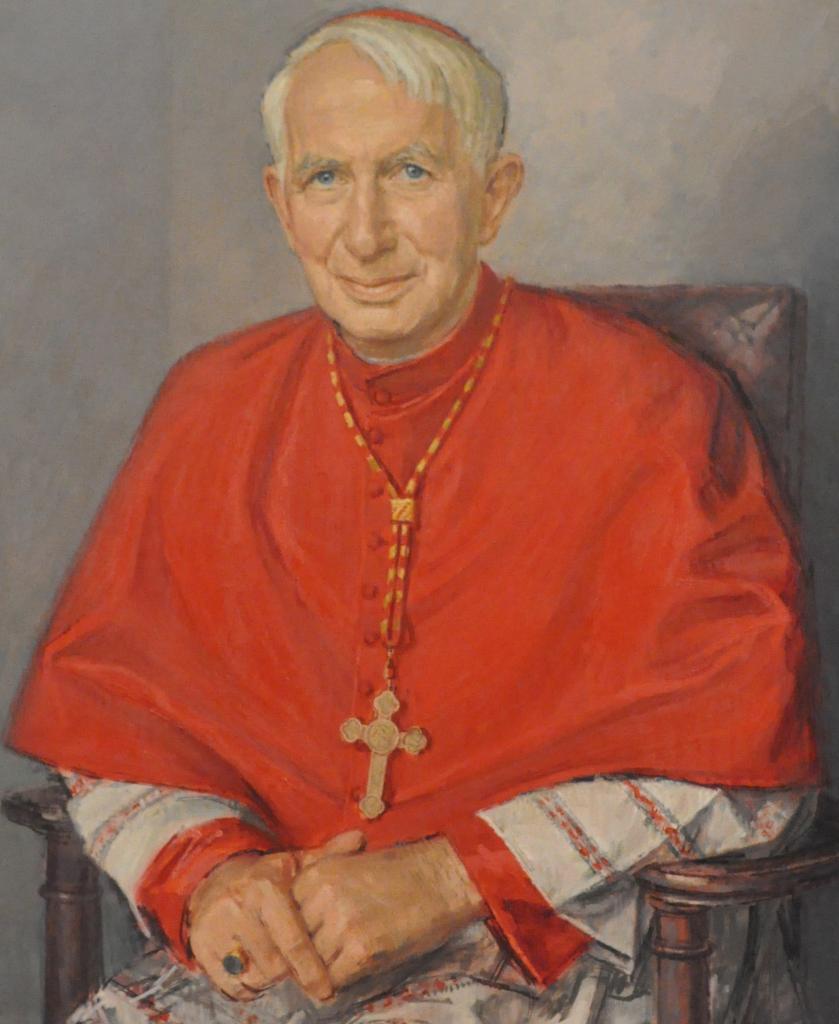 Born George Hume in Newcastle upon Tyne in 1923 to a Scottish father and French Catholic mother. He is remembered for his work with the homeless, his love of football and for uniting his church to a state of harmony not previously seen for 400 years.
Hume decided to become a monk at the age of ten. He joined Ampleforth Monastery in 1941, taking the name Basil, and his solemn vows in 1945. He studied in Oxford and Fribourg then was ordained in 1950.
Returning to Ampleforth, he became Assistant Priest in the village and a teacher in the school, eventually becoming Head of Modern Languages and school rugby coach. He also taught dogmatic theology to the monks in training.
Hume progressed fast: he was elected to represent Ampleforth in the General Chapter of the English Benedictine Congregation in 1957, then elected Magister Scholarum. In 1963, he was elected Abbot of Ampleforth and it was in this role that his talent for keeping the peace and promoting harmony started to show.
Following Vatican II and the Church's resulting internal dissent, Hume supported both the conservatives and the progressives, allowing both sides to think that his sympathies lay with them. Indeed, he said that his head was progressive while his heart was conservative. He formed friendships and connections with people from other denominations, always believing that the love of God was central to religion and to solving conflicts between individuals.
After his promotion to Cardinal in 1976, Basil Hume's first act was to lead the monks of Ampleforth to Westminster Abbey to sing vespers for the first time in 400 years. A great lover of music, he saved the Cathedral Choir of Westminster from being disbanded. He encouraged work with young homeless people through the Society of St Vincent de Paul and in 1986 founded the Cardinal Hume Centre for young people at risk. He even opened the Cathedral Hall to those sleeping rough. He also turned his attention to other forms of social injustice and was instrumental in the release of the Guildford Four.
He was president of the Council of European Bishops' Conferences between 1978-87 and president of the Bishops' Conference of England and Wales 1979-99.
When the Church of England introduced the ordination of women, some of its clergy converted to Roman Catholicism. Cardinal Hume managed their conversion and, whilst initially excited at the idea that the two churches might be reunited, he learnt how best to help by skilfully smoothing over a period that might have led to a massive rift.
Throughout his life he remained a humble and approachable man, preferring to wear a monk's habit instead of his Cardinal's robes. So adept was he at keeping the peace that he promoted the position of Roman Catholics in Britain from one of slight suspicion to one of unthinking acceptance. The Queen rewarded his remarkable achievements shortly before his death on 17th June 1999 with the Order of Merit.
Cardinal John Carmel Heenan

Born 26th January 1905, of parents both born themselves in the Parish of Clareen in Ireland. In infancy he was taught by Ursuline nuns who termed him 'Jackie Lantern.' At the age of 9 he was auditioned for Westminster Cathedral Choir School but Sir Richard Terry told his mother he had a 'metallic voice.' He went to St. Ignatius College, Stamford Hill, London to be educated by the Jesuits and from there at 17 went on to Ushaw, which then had large numbers of ex-Servicemen. At the age of 19 he entered the Venerable English College where his acting and impersonation exploits became legendary. He was ordained in his own Ilford Parish Church and sent as Curate to St. Ethelburga's, Barking, Essex.
In 1937 aged 32, he became Parish Priest of Manor Park where he was to remain throughout the war until 1947. During these years of shared joy and suffering with his people he re-lived his childhood experiences when Zeppelins had lazily floated over London to drop primitive bombs. Now, however he was pulling trapped victims out of blitzed and burning buildings, putting out fires in his own parish school and spending nightly vigils at the local Fire Station. In 1940 he began broadcasting on the service to America - in a series called 'Britain Speaks.' He gave many talks on programmes for the Forces. He became known for his newspaper articles and public speaking.
While a Parish Priest he published five books – the best known being one about his former Rector in Rome, Cardinal Hinsley.
In 1947 he became Head of the Catholic Missionary Society when it was re-organising after the war. He gathered a strong team around him – including two former V.E.C. colleagues, G.P.Dwyer (later Archbishop) and T. Holland (later Bishop). They used a motorised Chapel with loudspeakers for this. He was now in constant demand for talks and retreats – despite his 'metallic voice.' Much of his material he published in a new book, 'The People's Priest.' As the book came into the shops (1951), he was named Bishop of Leeds.
His priests could now read their destiny. He brought instant activity to a Diocese that had previously had an ailing Bishop. Clergy were moved about rapidly and the Diocese earned the nickname 'the cruel see.' Choosing to live close to his people he was part of the Cathedral staff – with his bike chained up in the back yard. He instituted an 'Open Day' each Friday when anyone could see him without appointment.
New churches sprang up in this post-war era and his flock were most distressed to lose him to Liverpool in 1957 as Archbishop. He pushed for the building of the neglected Cathedral and launched a competition for the best design, which resulted in the consecration in 1967 of that unique Liverpool shape dominating the University skyline. By then Heenan had moved on to Westminster as Archbishop (1963) and in 1965 was created Cardinal.
He attended the Vatican Council from 1962 – 1965 where he was cautious yet determined about implementing its decisions. He set up both a Senate of Priests and a Pastoral Council and also a College for training religious teachers in the new thinking. The latter had a chequered existence. He sought fresh links through his own friendship with the Chief Rabbi and the Archbishop of Canterbury – pulpit exchanges, etc.
He led the Bishop's Conference on public statements about moral issues and was an outspoken opponent of abortion, contraception and euthanasia. These topics had just come alive as social phenomena.
At Rome he was a member of the Sacred Congregation for Bishops and also of the Pontifical Commission for the Revision of the Code of Canon Law.
In 1967 he suffered a serious illness and for the next 6 years had to fight much ill-health. Heart attacks in 1973 and 1974 eventually led to his death on 7 November 1975 aged 70.
At his own wish he was buried, like Hinsley, in the Cathedral and not in the crypt alongside Manning, Wiseman, Griffin and Godfrey. His tomb lies under the twelfth station – 'Jesus dies on the Cross.'
Cardinal William Godfrey
Born Liverpool, 25 September 1889. He was educated at Ushaw and at the Venerable English College, where he was ordained in 1916 during the First World War. He gained his Doctorate the following year. He then taught at Ushaw for 12 years – Classics, Philosophy and Theology.
In 1930 he was appointed Rector of the College where during the next 8 years he watched Mussolini's rise to power. He was known affectionately to his students despite his strictness as 'Uncle Bill.'
In 1938 he became the first Apostolic Delegate to Great Britain, Gibraltar and Malta and he served in this post with such discretion that in 1953, long after the war, he became Archbishop of Liverpool and in 1956 Archbishop of Westminster. He was created Cardinal two years later.
He died in London on 22 January 1963 aged 73.
Cardinal Bernard William Griffin
Born Birmingham, 21st February 1899. Educated Cotton College, Oscott, the Venerable English College and the Beda. He was ordained in 1924 and 3 years later became Secretary for 10 years to the Archbishops of Birmingham. He was Chancellor of the Diocese at 30 and a notable Administrator of its charitable homes.
In 1938 he was made Auxiliary Bishop of Birmingham and during the War period succeeded Hinsley as Archbishop of Westminster (1943). Three years later at the age of 47 he was created Cardinal.
His links with social welfare helped him deal with the new post-war Labour Government as it carried out sweeping and widespread social reforms. He journeyed frequently abroad on Church affairs until stricken by illness that hampered his last years.
He died on 20 August 1956, at the age of 57.
Cardinal Arthur Hinsley
Born 25th August 1865, at Carlton near Selby, Yorkshire. Son of a local carpenter and an Irish mother. His Parish Priest, who assisted at Carlton Towers, a nearby residence of the Norfolk Family, sponsored his education and at the age of 11 he set off for Ushaw. Whilst a student there he secured his B.A. degree from London University. He then came to the Venerable English College as a student to take further degrees and was ordained in 1893, aged 28. He then returned to Ushaw to teach there for 4 years, but in 1900 he founded a Laity-sponsored School, St. Bede's Grammar School, in Bradford and became its first Headmaster.
The school prospered but led to differences between Hinsley and his Bishop. Consequently Hinsley moved to Southwark Diocese.
After 13 years combining parish work with lecturing at Wonersh, he was made Rector of the V.E.C. and worked in Rome from 1917 – 1928. He bought Palazzola and had its swimming pool built. However, he was created Bishop of Sardis in 1927 and sent as Apostolic Visitor to Africa where after 7 years, ill-health caused him to retire.
He became a Canon of St. Peter's and there expected to end his days. To the surprise of many he was called out of retirement on the death of Cardinal Bourne to become the fifth Archbishop of Westminster on 25th March 1935. He became a Cardinal in 1937.
He denounced the Hitler Regime – founded the Sword of the Spirit as an ecumenical venture to rally the churches against totalitarianism – and became famous in all homes for his wartime radio chats and stirring encouragement when Britain stood alone.
He died on 17 March 1943, at the age of 78.
Cardinal Francis Bourne
Born in Clapham in 1861 of an English (Civil Servant) father and an Irish mother. At the age of 8 he went to Ushaw and at 16 to St Edmund's College, Ware. He tried his vocation with the Dominicans at Woodchester, but in 1880 aged 19 he went to Hammersmith College and then at 20, on to St. Sulpice in Paris. After 2 years there he went to Louvain. He was ordained in Clapham in 1884 when he was 23.
Five years later he was appointed Rector of St John's Seminary Wonersh. In 1896 he was Coadjutor Bishop of Southwark and by 1903 Archbishop of Westminster, aged 42. During the Eucharistic Congress in London (1908) he defied a Government ban on public processions of the Blessed Sacrament by giving the Blessing from the Cathedral Loggia. He became Cardinal – with the titular Church of S. Prudentiana – when he was 40 in 1911.
He became known for his patriotic speeches during the First World War, he upheld the rights of the Arabs in Palestine, was a fervent supporter of Catholic schools, denounced the violence in Ireland, reproved the Modernists, and was luke-warm towards inter-faith talks. He opposed the idea of a separate Catholic University and a Catholic Political Party – Catholics must mix.
He died 1 January, 1935, aged 73.
Cardinal Herbert Vaughan
Born Gloucester 1832 of an ancient family, the Vaughans of Courtfield. His mother was a convert. Five of her seven sons became priests and all six daughters became nuns. He was educated at Stonyhurst and the Jesuit College of Brugelette in Belgium. At the age of 19, he attended the Accademia in Rome where he met Manning. His health was not good so he was ordained early at 22 and Wiseman appointed him to St Edmund's College, Ware, as Vice-Rector.
He started with vision the great Missionary College of Mill Hill and toured widely in the USA to raise funds for it. He bought The Tablet and edited it for a time. In 1870 at the age of 40 he was made Bishop of Salford. At 60 he became Archbishop of Westminster and at 61 Cardinal. His titular Church was St. Andrew and St. Gregory on the Coelian Hill.
In 1895 he laid the foundation stone of Westminster Cathedral, desiring that the Benedictines should regularly sing Office there. He founded the Crusade of Rescue for needy children. He wrote 'The Young Priest.'
He died in 1903 aged 71.
Cardinal Henry Edward Manning
Born in Totteridge on July 15, 1808. His father was a Member of Parliament. He went to Harrow at ten years of age and later became Captain of Cricket there. At Balliol he took a First in Greats. At 24 he was a Fellow of Merton College and an Anglican Divine. He married and then followed a 17 year curacy that led to his becoming Archdeacon of Chichester.
Fourteen years after his wife died he became a Catholic. He was ordained by Wiseman at Farm Street Church and then studied at the Accademia in Rome where he took his Doctorate. As Provost of the Cathedral Chapter in Westminster, he sought many reforms.
When he succeeded his friend Wiseman as Archbishop (and ten years later as Cardinal), he took great steps for Further Education (Education Act 1870), for Relief of the Poor and for Temperance Reform. He helped resolve the Dock Strike (1889). He opposed Newman's plan for a Catholic College at Oxford and renewed the ban on Oxford and Cambridge. He re-organised the Venerable English College desiring an Oratorian as Rector. His titular Church was that of St. Andrew and St. Gregory on the Coelian Hill.
He died in 1892 aged 84.
Cardinal Nicholas Wiseman
Born Seville, Spain, of Irish parents. Educated Waterford, Ushaw and the Venerable English College. At the age of 16 he entered the College. Ordained in 1825, he was made a Rector shortly afterwards. He became a noted scholar and gold medallist – especially in Syriac – and enriched the Library with rare books in his researches. At 38 he became Coadjutor Bishop of the Central District of London and President of Oscott College.
At the age of 48, when the Pope allowed England and Wales to have 12 Bishoprics subject to Westminster, Wiseman became Cardinal Archbishop of Westminster. He worked with Manning, regulated afresh the style of Religious Services and Devotions in England and the structure of Seminaries, secured status for Military Chaplains, and set up schools for needy children. His own youthful exuberance still reveals itself - but only just – on a pillar beside the College Tank where he carved his own name. His titular Church was Saint Prudentiana.
He died on 15th February 1865, in London aged 62.