On Wednesday 11 February 2015 Cardinal Vincent welcomed Archbishop Bashar Warda of Erbil, Iraq.
Cardinal Vincent met with Archbishop Bashar during the latter's visit to the UK to ask for additional humanitarian help and protection for Iraqi Christians fleeing Isil attacks. The Archbishop was accompanied on this visit by a delegation that included Neville Kyrke-Smith, UK National Director of Aid to the Church in Need (ACN), ACN Head of Press and Information John Pontifex, Dr Suha Russam, Iraqi Christians in Need Trustee, and Fr Nadheer Dako, the Chaldean Catholic Chaplain in Westminster Diocese.
Later the same day, Archbishop Warda concelebrated Mass at a packed Westminster Cathedral, as many in the Iraqi Christian community in London and other supporters turned out to show their solidarity with Christians in Iraq.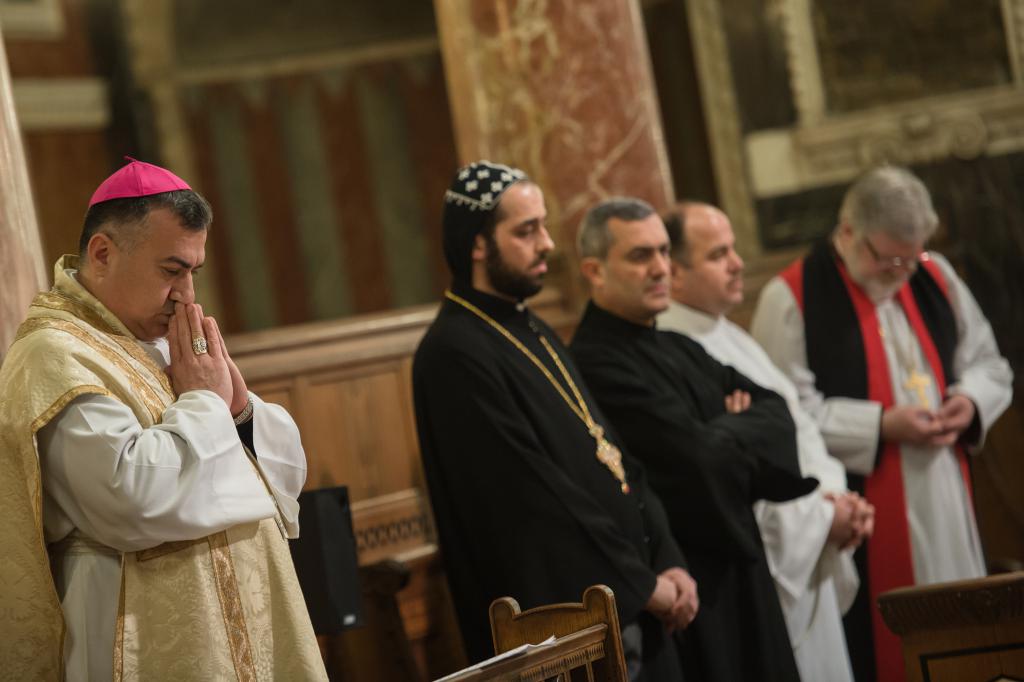 In his homily the Archbishop spoke of Christians fleeing the Isil attacks: 'Day and night, all they experience is emptiness. Each of them can be forgiven if at times they feel that theirs is a life without the breath of God, the love of God.'
He said, 'Theirs is a situation of captivity in which some people feel hopeless and feel that God has abandoned his people.'
And yet, he emphasised, 'God continues to give us new hope, helping us to breathe his spirit in the world around us. Let us all pray that he will empower us to be his disciples.'
After Mass, Archbishop Bashar gave an address at the Cathedral Hall about the situation of Iraqi Christians since the summer. He explained that 'the population curve of Christians dropped in a dramatic and alarming way' and expressed his fears that Christians and 'other ethnic communities will disappear altogether' from Iraq.
Sounding a sad note, he said: 'Christians in Iraq have come to an absolute conviction that this country is not theirs, and that whatever they do they would still find no place among others.'
'Christians have come to think of two options: immigration or the creation of a safe haven under international protection where they can live in peace and human dignity,' he explained.
Archbishop Bashar also detailed the work done by parish priests, religious orders and other representatives of the Catholic Church to distribute food, provide shelter, health services and education.