By Anna Maria Dupelycz, Catechesis Advisor
The Story Behind the Project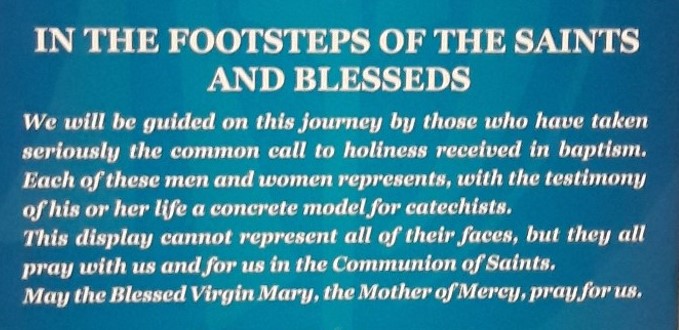 In September 2018, I had the privilege of attending the International Catechetical Congress in Rome. For the duration of the Congress, there was a display of banners - 'In The Footsteps of the Saints and Blesseds ' - depicting 26 Saints and Blesseds of catechesis from the world over. Some of the names are well-known, others more obscure. Each banner had a sketch of their faces and a simple quote, along with the brief explanation pictured above. Each quote was given in Italian, English and French. The display was so simple and captured my imagination: I had to take photographs of each banner! What I would do with them once I returned home was immaterial. For several months, the Agency or Evangelisation had been (and are still) considering how we can support catechists spiritually as well as practically. Then, the pandemic arrived.... What could we offer when we can't meet in person? What could we offer to uphold the spirits of catechists, the majority of whom were now seemingly redundant with the cessation of sacramental preparation programmes, albeit perhaps temporarily. The display in Rome came to mind and I began work on how to present the lives and works of these men and women to catechists. What could we learn from them? What a time to call upon them for guidance!
The result has become a relatively short monthly opportunity for catechists to come together online to reflect on one of these saints and blesseds using Scripture passages associated with their feast day, a presentation of their biography - sometimes verbal, sometimes video (amazing what you can find on YouTube!) - dwelling on their work in catechesis, sharing what we may learn from them, and a 'take away' of additional resources should anyone wish to go deeper. These evenings began in October 2020. A recent development is an attempt to have testimony from somebody for whom that saint has made an impact in their life. For example, Ursuline Sisters for St Ursula; a Jesuit for St Peter Canisius; members of SDC (Society of Christian Doctrine) for St George Preca. Numbers may have been small but beneficial for those who have attended. Whether the project continues to include all 26, only time will tell. This is something that could continue online well into the future.
After each monthly reflection a leaflet resource is made available on the Agency website. Currently, leaflets are available for
with St George Preca to follow. There are two further evenings before the Summer break: St Jose Anchieta, ('Apostle of Brazil') on Thursday 10th June and St Clelia Barbieri on Tuesday 6th July.
To receive the Zoom link, register with Warren at catadmin@rcdow.org.uk