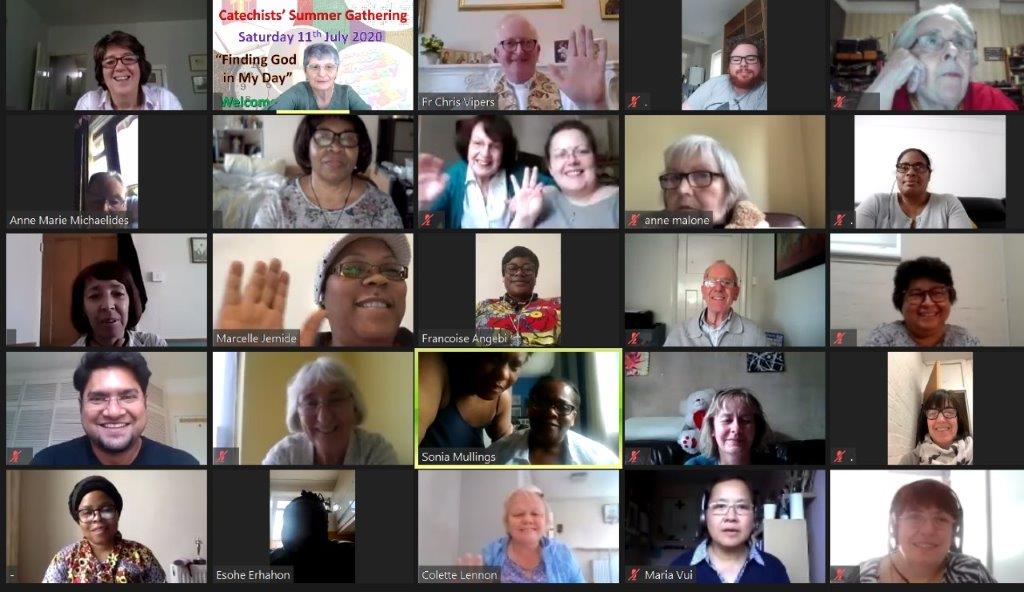 Covid-19 didn't stop the annual gathering of catechists. After much planning, preparation of resources, rehearsal, and sending out of materials beforehand, the Agency for Evangelisation provided an opportunity for catechists of the diocese to meet. On Saturday 11th July, we met virtually via Zoom for a day centred around the theme of "Finding God in My Day". 80 registered but due to connection and technological problems around 60 were present.

There were thought-provoking inputs by Bishop Nicholas Hudson, Roger Carr-Jones
and Abbott Christopher Jamison OSB.
Prayer, video clips and reflections were 'screen shared'; Participants shared and discussed in breakout rooms with feedbacks noted on 'whiteboard'.. There was a break for lunch with an opportunity to meet and chat as deanery groups in pre-assigned breakout rooms. The day ended with a live-streamed Mass from Moorfields, celebrated by Fr Chris Vipers.
Reactions from the experience by some of the participants:
"Liked the breakout rooms, chance to meet new people and some old ones, exchange ideas, thoughts and experiences."
"…virtual gatherings should be part of the Agency's portfolio moving forward… the forum worked so well."
"Very cleverly done. yes, it was a good experience, no too long, which was helpful, and all participants had a chance to speak"
"Thank you for organising…gave us the opportunity to think, reflect and process.
"Excellent, thoroughly enjoyed it."
"… inspirational meeting…. It was just what I needed after months of the lockdown. It reminded me how necessary it is for catechists to be in the presence of other catechists and throw in the contributions of the bishop, the Abbot, and Fr Chris we had the basis of a great revival of renewed zeal."