The Diocese of Westminster gives priority to the support and promotion of small faith-sharing groups. Such groups meet to share the Bible, share experiences and discuss the needs of the wider community, often undertaking common projects in response to local needs.
The Agency for Evangelisation works to support existing communities through the production of the exploring faith resources and provision of pastoral support and training throughout the year. The Agency also seeks to aid parishes wishing to form new groups that become a regular part of parish life.
For Parishioners who are unable to join a local Lenten Faith-Sharing Group, they may be interested in the following:
Small Communities – Faith-Sharing for Lent 2021
'Holy Week Voices from the Holy Land'
Monday evening reflections through Lent with Fr Richard Nesbitt.
On each Monday evening through Lent, Fr Richard Nesbitt will lead an online reflection on six of the Chapters from 'Holy Week Voices from the Holy Land' .
Starting on Monday 22nd at 7.00pm, each session will last 45 minutes.
To register e-mail: catadmin@rcdow.org.uk
All Welcome!
***************************************************************************************************************************
Lent 2021- Holy Week Voices of the Holy Land
Dear Friends,
These challenging times have inspired examples of remarkable creativity across our diocese, and fresh expressions of faith formation within our parish communities. In this spirit we are delighted to offer a fresh and innovative resource for your parishioners and small community participants for their journey through Lent 2021.
During Lent last year, Fr Richard Nesbitt, parish priest of Our Lady of Fatima, White City, found inspiration to write a series of 15 poems on the themes of Our Lord's passion, death and resurrection. Through the Friends of the Holy Land charity, a number of people in the Holy Land were then approached to offer their reflections on the Scriptures for Holy Week, the poems and their own personal experiences.
Friends of the Holy Land Lenten Paperback Book
The result is Holy Week Voices from the Holy Land, a prayerful and timely resource. In summary, the book contains:
· Forewords by Cardinal Vincent Nichols (Founder Patron of Friends of the Holy Land) and Archbishop Justin Welby of Canterbury.
· 15 chapters each featuring a poem, Scripture, a reflection from a Holy Land 'Voice', a prayer and questions for group reflection or individual meditation as well as a biography of the contributor.
· Stations of the Cross during a Time of Pandemic, first prayed at Our Lady of Fatima in Lent 2020.
· An invitation to share the reader's own poem or reflection on Simon of Cyrene.
As with previous seasonal resources, Holy Week Voices from the Holy Land can be used for individual meditation as well as group reflection and faith-sharing. Groups will find a suggested path through the book during Lent and Easter, but it is flexible enough to respond well to particular circumstances (in terms of meeting frequency and online/offline gatherings).
The proceeds of this book (priced at £7.99 plus postage and packaging) will go to the Friends of the Holy Land to aid their work with the neediest of our brothers and sisters in the Holy Land. As with those closer to home, our brothers and sisters there have suffered dramatically during the coronavirus pandemic, including economically with the cessation of pilgrimages and tourism and the resulting loss of income.
So, welcome to the journey.
Fr Chris Vipers, Director of the Agency for Evangelisation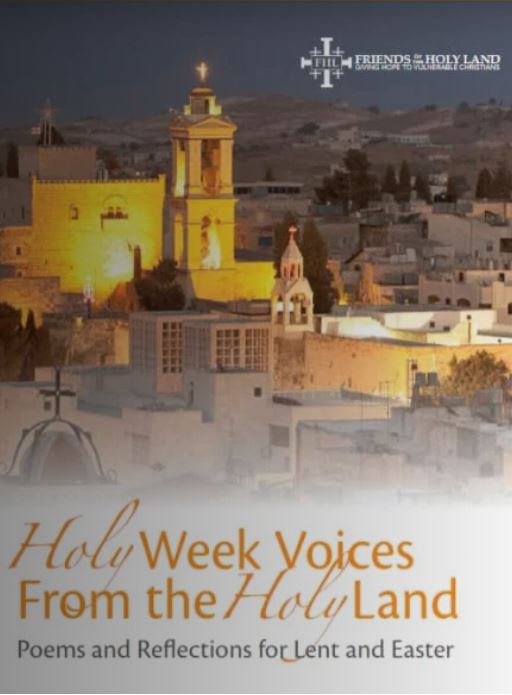 Order Form:
Order Digital Copies from Issuu
Friends of the Holy Land Lenten Paperback Book
****************************************************************************************************************************
Autumn 2020 -
'According to Thy Word'
Faith-Sharing for Autumn 2020. Six sessions based on the Titles of Our Lady.
Mother of God

Mother of the Church

Spouse of the Holy Spirit

Queen of Peace

Queen of the Most Holy Rosary

Protectress of her Dower of England
To download a PDF version of 'According to Thy Word', click here.
Online Small Community Discussion events will take place each Wednesday, 7-8pm, from 7th October. To register, contact catadmin@rcdow.org.uk.
Listen to an accompanying audio guide for each session below:
Autumn 2018
The theme for the World Meeting of Families in Ireland in August 2018 was, 'The Gospel of the Family means Joy for the World'. This new faith-sharing resource for small communities, 'Holy Families: The Joy of Love, an exploration of Amoris Laetitia', is a proclamation of this same truth. Exploring themes from the Holy Father's 2016 Apostolic Exhortation Amoris Laetitia, this resource seeks to explore the beauty and blessing, the joys and challenges of marriage and family life over six sessions. The sessions have been written by theologian Pia Matthews, Bishop John Sherrington and Bishop John Wilson.
To download a PDF version of 'Holy Families', click here.
SESSION 1 – The Journey – love at the heart of the family
SESSION 2 – Love is – the fruitfulness of married love
SESSION 3 – I Will – the experiences and challenges of families today
SESSION 4 – I Do – discovering the beauty and dignity of marriage
SESSION 5 – A Family of Families – accompaniment and discernment
SESSION 6 – Home is a Holy Place – family of prayer, hospitality and reaching out
Listen to the audio here:
To order booklets of this resource, please e-mail smallgroups@rcdow.org.uk.
Lent 2018
'We Adore You, O Christ, and We Praise You': The Gift of the Holy Eucharist
A resource for Lent 2018 has been produced with September's National Eucharistic Congress in mind and could be a wonderful parish preparation for this milestone event in the life of the Church in England and Wales and of the Church in Westminster. Our immense gratitude goes to Fr Stephen Wang for preparing the material, despite his huge workload as Senior University Chaplain here in London. He is a teacher at heart, and this shines through his reflections, as does his deep love of the Holy Eucharist.
The resource is divided into six thematic sessions. You may wish to begin in your parish in the week of Ash Wednesday, and finish in the fifth week of Lent. Alternatively, you could meet for the five full weeks of Lent and finish in Holy Week, or for the five weeks of Lent with the sixth session after Easter. The scripture readings are not taken from the Sunday Mass readings so you are not tied to the liturgical week in this way, and indeed the sessions can be run at any time during the year.
By finding out about the resource at this stage we hope our parishes will have enough time to plan for faith-sharing programme this Lent and to think about the groups which could meet around the parish and who they might want to join and lead them. Parishes may very well want to start planning for those groups now, perhaps using the tried and tested formula: who, where and when? Some parishes have well-established small communities and faith-sharing groups, others do not. This Lent, and particularly as we look towards the Eucharistic Congress in September, could be a real opportunity for a fresh look at adult faith formation and deepening discipleship in the parish, and to extend the invitation wide. The New Evangelisation has a way of opening new doors.
Many parishes ordered faith sharing booklets for Lent 2018 well in advance and they are arriving next week. However, if someone would like to use an electronic format, please follow the links to our recent resources.
To download a PDF version of 'We adore you', click here.
To download a PDF version of 'Love. Say it with your life', click here.